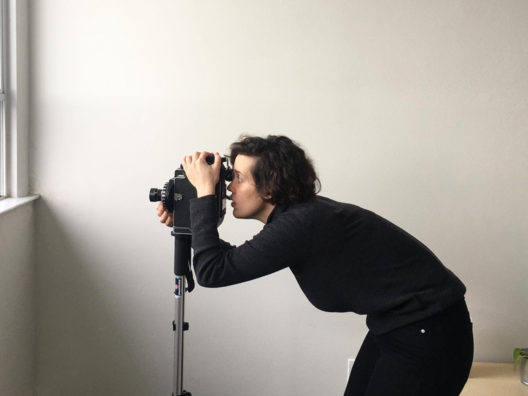 The first International Artist Residencies for Film Creation – BAICC started in 2017 thanks to the support of AC/E and the LIFT, reaffirming the strong commitment of the Mostra with supporting production and artistic creation in alternative spaces.
After this successful third call with more than 15 proposals received, 'Propiedades de una esfera paralela' of Valentina Alvarado was the project selected to be developed during five weeks in the Liaison of Independent Filmmakers of Toronto. The final result will be screened, in world-wide première, during the (S8) 11th Mostra de Cinema Periférico, that will take place in A Coruña (Spain) from 29th May to 7th June 2020.
Through a multidisciplinary artistic practice, Valentina Alvarado Matos (Maracaibo, 1986) explores the hybridization of the various plastic languages that she uses—collage, ceramics, photography and analog film—to elaborate discourses linked to memory and identity displayed in unfinished geographies. Her work establishes a constant dialogue between the digital and analog were the poetic and the political form an important part of her artistic proposal. She is currently a resident of La Escocesa.
We interviewed Valentina during his last days in Canada. Find below her comments about her experience in the residence and some advances of her work:
– Could you introduce to us your project 'PROPIEDADES DE UNA ESFERA PARALELA' and tell us about your creative process at LIFT in Toronto?
Propiedades de una esfera paralela proposes a trip (or a travelogue) where there is a representation of a familiar landscape into an unknown and foreign context. From a politicization of the personal, I have been pushing my work towards a research that represents fluid geographies and circunstancial identities. In this sense, the piece that I am developing in Toronto has to do with this idea of the representation of a landscape which is exotic for me and where everything is otherness, for that reason I try to look for similarities or common places with landscapes that are intimate and close to me.
In terms of the making, what I intended has mutated: it is difficult to conceptualize at a distance if we have not set foot on the place, and that itself has been a process of learning that has been very interesting. To shoot alone and to carry all the equipment with the inclemencies of the weather here slows everything down… then other forms of approaching the former idea appear, and this enriches the process and, at the end of the day, determines the finished work.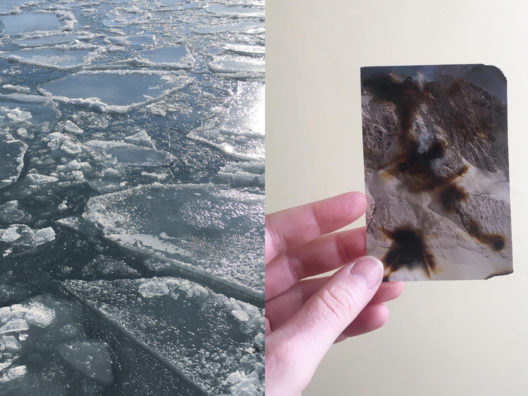 – How have you been welcomed among the community of experimental cinema in Toronto and what sensation would you highlight of working in a space such as LIFT?
Toronto is a very open a porous city. I have had the opportunity to attend some screenings and experimental cinema events and the sensation I have is very similar to the one I have when I attend a screening in Barcelona: is a generous and welcoming community that is eager to meet the newcomers and to learn what we do, what we shoot and what is interesting to us. Maybe in this I find several differences (positive to experimental cinema) with the world of contemporary art. About LIFT, to have access to their equipment and facilities is a luxury, as well as to have access to the knowledge of all the people who work there, and who are available to give you their guidance and advice. One month is too little time for all that LIFT can offer and for all that Toronto has to offer in terms of film practices (I am looking forward to come back).
– Your body of work includes films, collages, installations and film performances. Among all these artistic expressions and observing your trajectory, what connections would you say that currently exist in your artistic proposal?
There are many, mainly because all these expressions coexist in my different ways of creating work, and what I do with cinema is to join all the languages that I work with, I try to place them in front of the camera. When I began to film (as well as when I started to make ceramics) my approach to both languages was through collage, that for me has always been a medium to which I always resort to.
– In the (S8) we devote a special attention to live cinema expression in their different form, as film performances and expanded cinema. Could you tell us about your experience in that field? What collaborations have you developed with other artists in this sense?
My experience is recent in that field. I began to collaborate with Carlos Vásquez Méndez a couple of years ago, trying to think about different ways to build filmic narratives through performance, going from the textual to the sensorial, from documentary to fiction. Panacronismos I and II emerged from this, a series of film performances that we developed in our studio at La Escocesa and that were presented in different spaces along 2019. We developed the work in two parts because we use the same methodologies with similar materials, but thinking about them for two different spaces, the black box (the cinema theatre) and the gallery or museum (the white cube). That opened a world of possibilities. Now the performance has become our collaborative language. We are already preparing new material.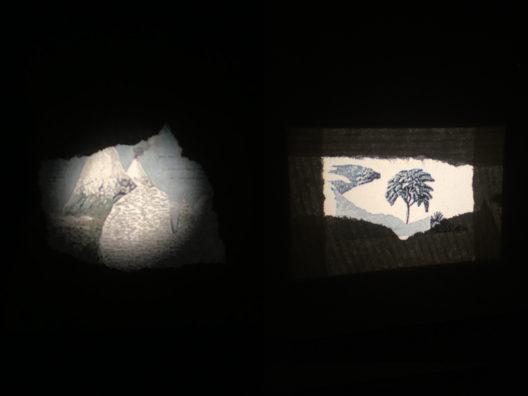 – What drives you to work with analog film formats in this era of digital images, and how do you think this choice informs your creative process?
I began to shoot on film when I arrived to Barcelona in 2014. Attending to experimental cinema screenings, entering this world as part of the audience, had to do a lot with this beginning, as well as the encounter with people linked to experimental cinema helped me to learn more about the techniques. Then I began to study and to watch several artists working in experimental cinema, and I could say that I felt very attracted by the freedom of their approach to the medium. On the other hand, methodologically I am very interested in shooting: the limitation of time (in opposition with the digital era), the reivindication of a language considered obsolete as a political form of taking a position in front of this world that swallows images was also something that captivated me. Not to mention the aesthetic qualities of celluloid. The times when filming are very similar as the times when working with clay: you need to have a healthy patience, to learn to dialogue with the material… but there is also a kind of magic. Both clay and celluloid are materials, we can touch them and mark our fingerprints on them, they need to go through slow processes to be discovered. In this digital times (not that I am not interested in the digital, I enjoy very much making gifs and things with the computer) I think it is necessary to use our hands, to think with them.–
– Currently you are a resident artist in La Escocesa in Barcelona. We would like to hear about your experience there and about the projects you are developing in that context.
La Escocesa defines itself among all the public creation spaces as an "open factory of analog creation", so the reason why I applied there is clear, to have a studio there. Along with Carlos Vásquez Méndez, artist and filmmaker with which I share my studio there, we made an open call in the form of a collective (with no name) to begin to think in projects were cinema would be the main language. Besides the performance I mentioned (Panacronismos I and II), this year we are preparing the photographic lab in La Escocesa with the idea of beginning to hand process our own films in super 8 and 16mm. Recently we received a grant to develop a new performative work around the loop concept, so we are currently researching that, and hopefully we will soon be able to build our own loopers for the projectors.
Besides the possibility of having a studio in such a gentrified city in a country where artistic work has become extremely precarious, La Escocesa has given me a lot as a community. There is a strong interest in the relationships between arts and social issues, we have a great link with the neighbourhood. We are an association of artists that run an alive space, with a feminist perspective that protects the diversity that we all constitute. Having the chance to belong to this artistic community has been a really enriching experience that permeates in my work for sure.