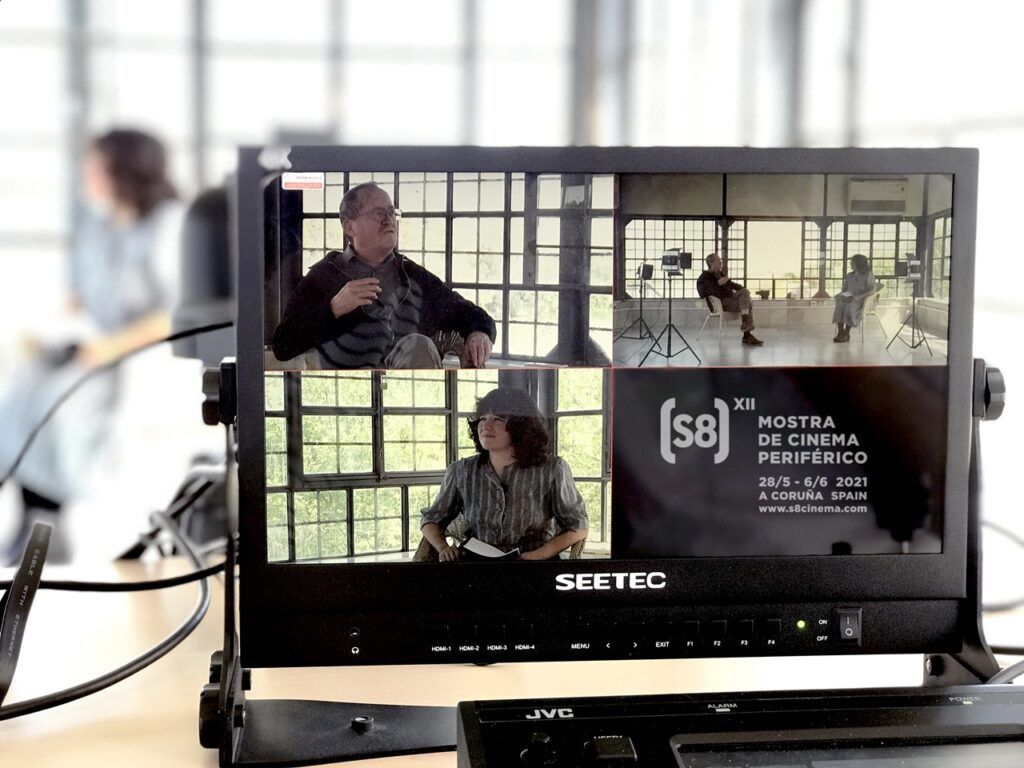 The four creators will be in the spotlight of an audience favorite of last year's edition: Camera Obscura, an online section inspired by Screening Room, a television series that has become, since it first aired in the 70s, a cult show for the experimental cinema community. The festival, which will take place in A Coruña between May 28 and June 6, will complement Camera Obscura with an ambitious international cooperation program –more details will be disclosed very soon.
April 30, 2021 – The 12th edition of (S8) Mostra Internacional de Cinema Periférico will take place this year between May 28 and June 6, in a dual format: on-site activities will be paired with a thorough selection of online contents, all of them designed to make us live to fullest the collective experience of cinema. This year, the festival offers a diverse range of on-site performances, meetings, and film projections, combined with a variety of programs that will be shared online via (S8)'s website and social media.
In 2021, (S8) brings back an audience favorite of last year's edition: Camera Obscura, an online program inspired in the well-known American TV show for experimental cinema, Screening Room. The show, conducted by Robert Gardner between 1972 and 1981, was a Boston television series that brought to the audience an in-detail presentation of the creative processes of a selection of innovative filmmakers, allowing the public to discover their work by broadcasting some of their pieces.
In this 12th edition, (S8)'s online show Camera Obscura –an interpretation of Gardner's show with a bold aesthetic and in an innovative format that will be available on streaming– invites us to discover and delve into the work and processes of a selection of outstanding creators, such as Jodie Mack, Juan Sebastián Bollaín, Pablo Marín, and David Domingo. All Camera Obscura episodes will be freely available online for the duration of the festival. Last, but not least, Juan Sebastián Bollaín will join the on-site activities in A Coruña and will be present during the double session devoted to his film work.
With Camera Obscura, (S8) brings to the audience a one-of-a-kind opportunity to really look into the creative process of artists like Mack, Bollaín, Marín, and Domingo thanks to in-depth interviews and a selection of their films. Moreover, this year the section will be complemented with an ambitious international cooperation program that will be fully disclosed within the next few days.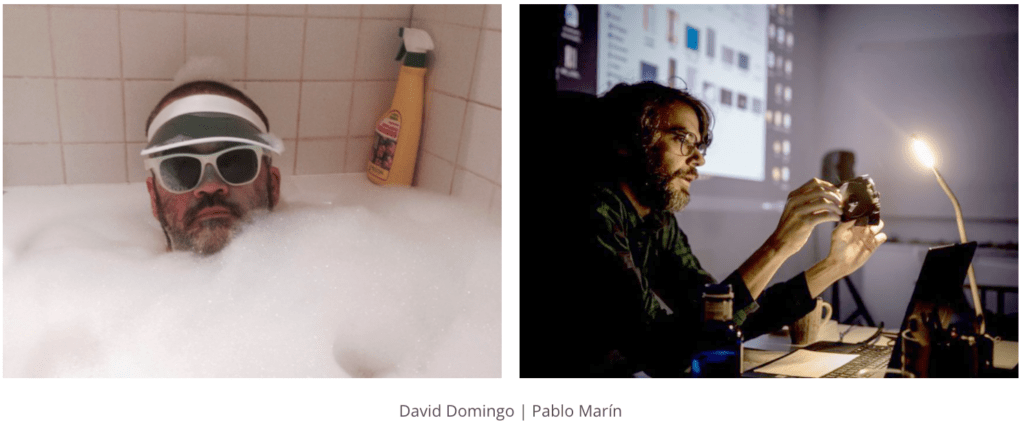 Camera Obscura: The Protagonists
Jodie Mack. Since she began her artistic career in the mid-2000, Jodie Mack has proved herself one of the most brilliant filmmakers of our times. Her unique, visionary way of working frame by frame is only matched by her endless creativity and her extensive knowledge of experimental animation techniques. Mack explores collage as a medium of expression, using it to experiment with the artistic potential of fabric in abstract animations where colors and patterns are brought to the front. But her films go beyond formal experimentation and technical proficiency –they offer an insightful account of the history of abstract art, popular culture, and their political implications.
Juan Sebastián Bollaín is a Spanish filmmaker, architect, and urbanist whose filmography is a rare jewel in the Spanish experimental cinema scene. A man of wild imagination and great sense of humor, Bollaín brings into play the tools of cinema and puts them to use for creating utopian cities, casting a clever eye onto his surroundings, especially the city of Seville (which acts as a revulsive for his idiosyncrasy). In this episode of Camera Obscura (a complement to the two on-site sessions that we will be devoting to this outstanding author), Bollaín will guide us into his first steps into the world of filmmaking, and explain us the ideas and circumstances behind some of his emblematic films, such as La Alameda (1978) and the tetralogy Soñar con Sevilla (of which we will be showing two episodes –two copies that were restored by Filmoteca de Andalucía). A program designed to delve into Bollaín's unique vision of cinema –and the world–, still revolutionary, still loaded with the future.
Pablo Marín is a vital agent of Argentina's experimental cinema scene. He is, indeed, an outstanding filmmaker, but also a researcher, a writer, an editor, a professor, and a cultural programmer. His film work –filmed almost exclusively in super 8 (a format that was essential in the history of Argentinian experimental cinema)– takes over from that of creators like Claudio Caldini, and is, at the same time, the result of a profound knowledge of the international avant-gardist initiatives. All this is present in Marín's films, which delve into the personal and the quotidian. Over the years, Marín has brought together a sort of film journal, abstract and oblique, where, by the means of overlapping images, masks, and frame by frame techniques, he puts to the test the potentialities of cinema.
David Domingo is a dear old friend of (S8) since the very first edition of the festival, when the programmers decided to devote a solo section to his work. Domingo, aka Stanley Sunday, has been key in the revitalization and renewal of underground Spanish cinema. His films, which take over from Zulueta's legacy, present a unique imagery that brings together pop references, all kinds of visual experiments, animations (from stop motion sequences to his recent 3D creations), domestic epic, homoerotic allusions, loads of humor, and a bright, colorful spirit.