With in-person attendance completely recovered, more than 8,000 visitors came to the Mostra or festival to enjoy the exclusive opportunity to see 55 world premieres and 47 for Spain.
Some of the most relevant highlights, to name a few, were shown by the massive attendance for the Amy Halpern sessions, Ute Aurand's first-person cinema, the plastic beauty of Alexandre Larose's cinema, and the real-time cinema experience that Leah Singer and Lee Ranaldo created for the closing ceremony.
Like never before, the festival showed off its space for education, creation and exhibiting projects for younger generations with a revamped Sinais section, consolidating the Paraíso section (for university students) and continuing INPUT, in collaboration with the Luis Seoane Foundation.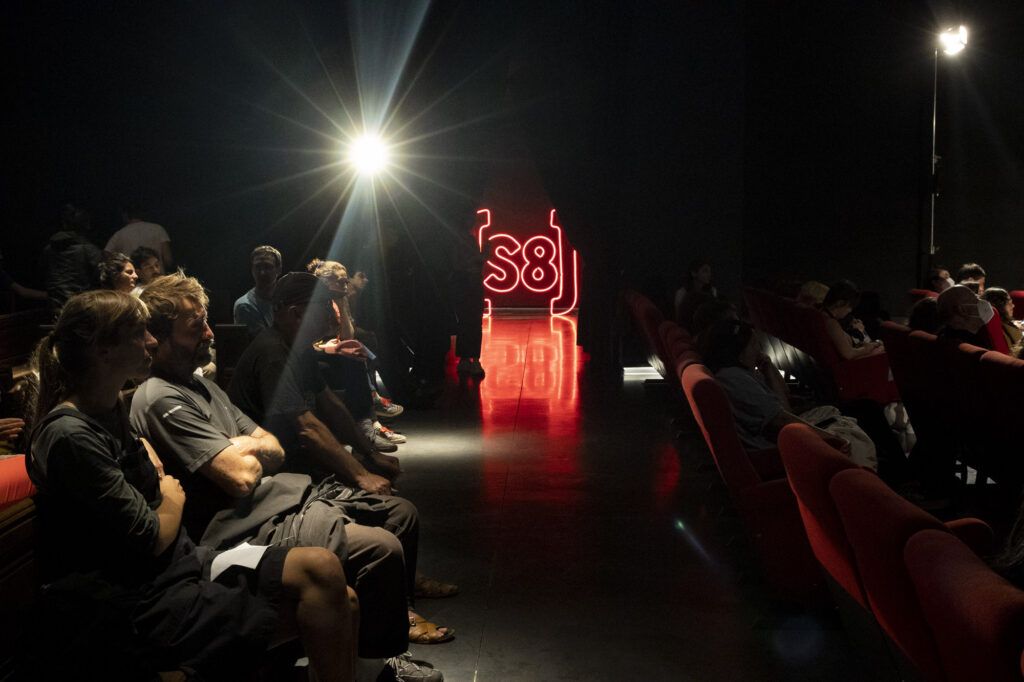 Last Sunday the (S8) Mostra de Cinema Periférico da Coruña (A Coruña Peripheric Cinema Festival) ended its thirteenth edition, which finally recovered full in-person attendance at its usual venues of Palexco, Domus and the Luis Seoane Foundation in its newly-opened main venue in the Port of A Coruña, with all of the attendees remarking on ·its magnificent qualities for the cinema exhibitions. ·As a whole, the sites were visited by almost 8,500 people over the ten days it was held, with A Coruña becoming a world stage for avant-garde cinema creation.
Once again, the city was able to boast of international guests such as Lee Ranaldo, Leah Singer, Amy Halpern, Ute Aurand, Alexandre Larose, Dianna Barrie, Richard Tuohy and Philipp Fleischman for this thirteenth festival, which was attended by more than a hundred professionals from countries such as Australia, Ireland, Italy, the United States, Canada, Chile, Argentina, Mexico, Brazil, Peru, Germany, Latvia, Austria, France, the United Kingdom, Portugal, Belgium, France and also from other parts of Spain such as Madrid, Catalonia, Andalusia, Asturias, the Basque Country, Catalonia, Castilla y León, Castilla la Mancha and the Valencia Community region.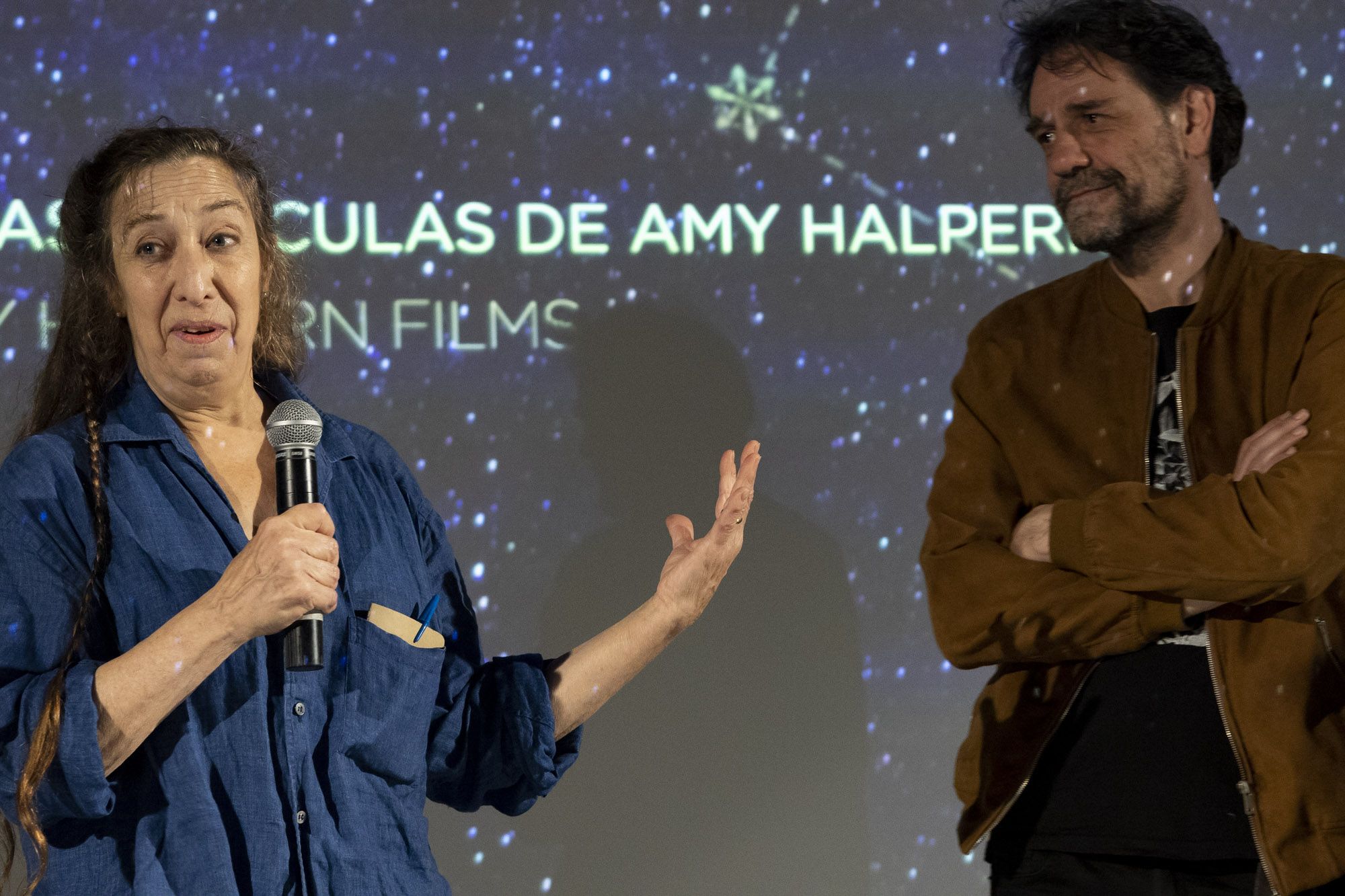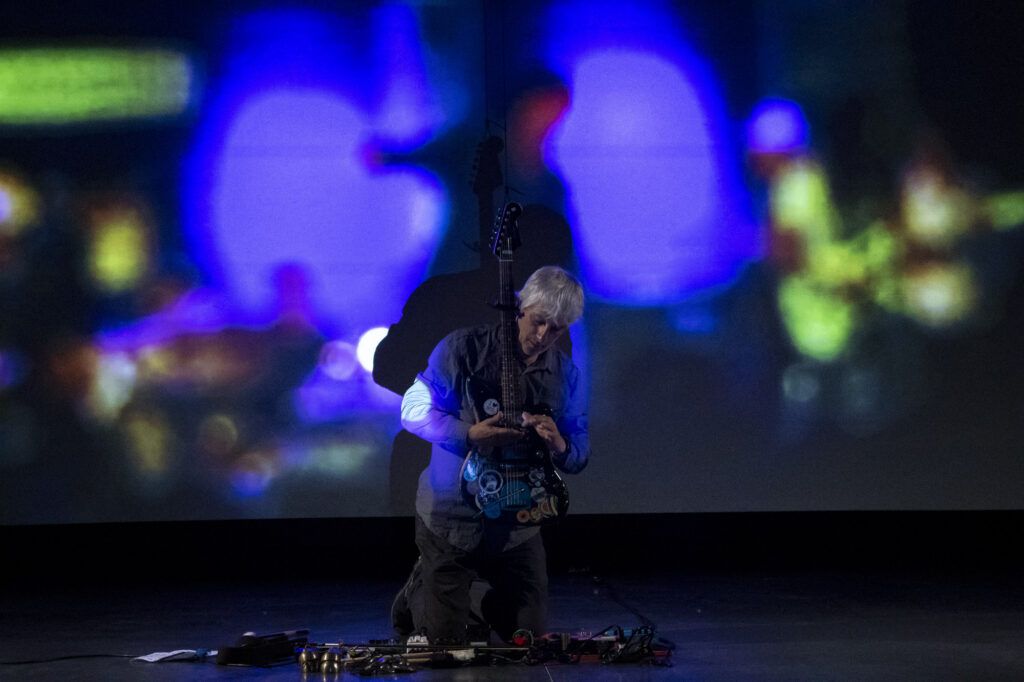 To name a few of the most impressive highlights for the attendees, there was the massive attendance for the Amy Halpern sessions, who left her mark on the audience with her in-depth cinema; Ute Aurand's first-person cinema, the plastic beauty of Alexandre Larose's cinema, and the real-time cinema experience that Leah Singer and Lee Ranaldo created for the closing ceremony.
The ·film performance·, one of the Mostra's flagship events, this year gave us Healing Ray by Jorge Suárez Quiñones and YLIA; Gold Film by Deneb Martos and Wade Matthews; and a performance trilogy by Dianna Barrie and Richard Tuohy. As part of its commitment to promote culture and foster unique experiences, Cervezas Alhambra also returned to support the (S8) for the third year in a row, making the Desbordamientos (Overflows) section a meeting point to blend its varieties with the best artistic and cultural proposals.
Without a doubt, we are talking about the most international Mostra de Cinema Periférico de A Coruña to date, with 55 works premiered internationally and 47 in Spain, while welcoming festival representatives from all over the world: Experiments in Cinema (USA), Workman arts (Canada), Berlinale (Germany), Process (Latvia), Valdivia International Film Festival (Chile), AIEFF—Australian International Experimental Film Festival (Melbourne, Australia), Malaga Festival (Spain), SACO—Oviedo (Spain) and PROYECTOR—Madrid (Spain).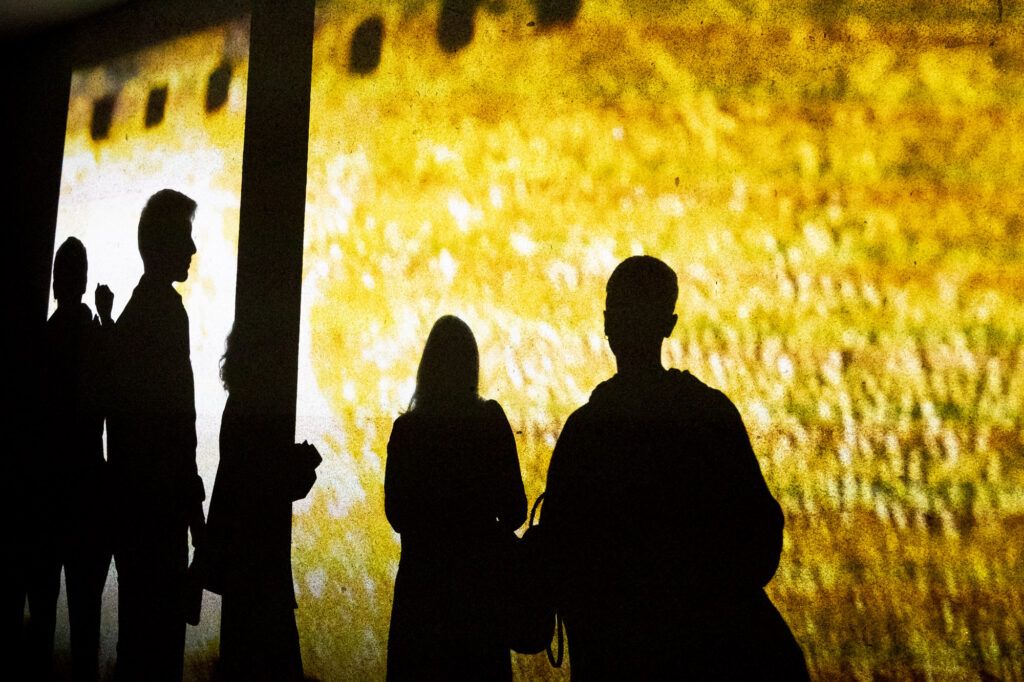 Education: spearheading a revamped (S8)
In this thirteenth (S8), an accreditation for students was launched for the first time, with the following educational institutions also represented: Schule Friedl Kubelka (Vienna, Austria), University of Vigo's Faculty of Fine Arts from Pontevedra (Spain), University of Salamanca's Faculty of Fine Arts (Spain), University of Cuenca's Faculty of Fine Arts (Spain), Master's LAV (Madrid, Spain), Elias Querejeta Zinema Eskola (San Sebastián, Spain) and the Escola de Imaxe e Son da Coruña (Spain).
This all goes to demonstrate the festival's commitment to working from the present towards the future. "After opening the festival up to young talents, we have confirmed that through (S8) we are helping to build the cinema of the future; not yet reaping the results, but helping to generate them. We feel a renewed energy to foster and accompany the transformation and changes in contemporary cinema creation", says Ángel Rueda, co-director of the event.
The Mostra featured a completely revamped Sinais section, putting the spotlight on filmmakers from Galicia, Spain and internationally, while paying attention to almost twenty creators who are questioning and tearing up the parameters of contemporary cinema. These included names like Aura Vega, Álvaro Feldman, Claudia Pineda, Carla Andrade, Inês Lima, Saru Miras, NUCBEADE (Quiela Nuc and Andrea Beade), Concha Barquero and Alejandro Alvarado, Jaione Camborda, Helena Estrela, Claudio Sodi, Marta Valverde, Sol Mussa, Tamara Goberna, Maria Pipla and Claudia Negro. The Paradise section was also consolidated as a focal point for the future of experimental cinema through a gathering of students and teachers from the Fine Arts Faculties of the University of Vigo and the University of Salamanca.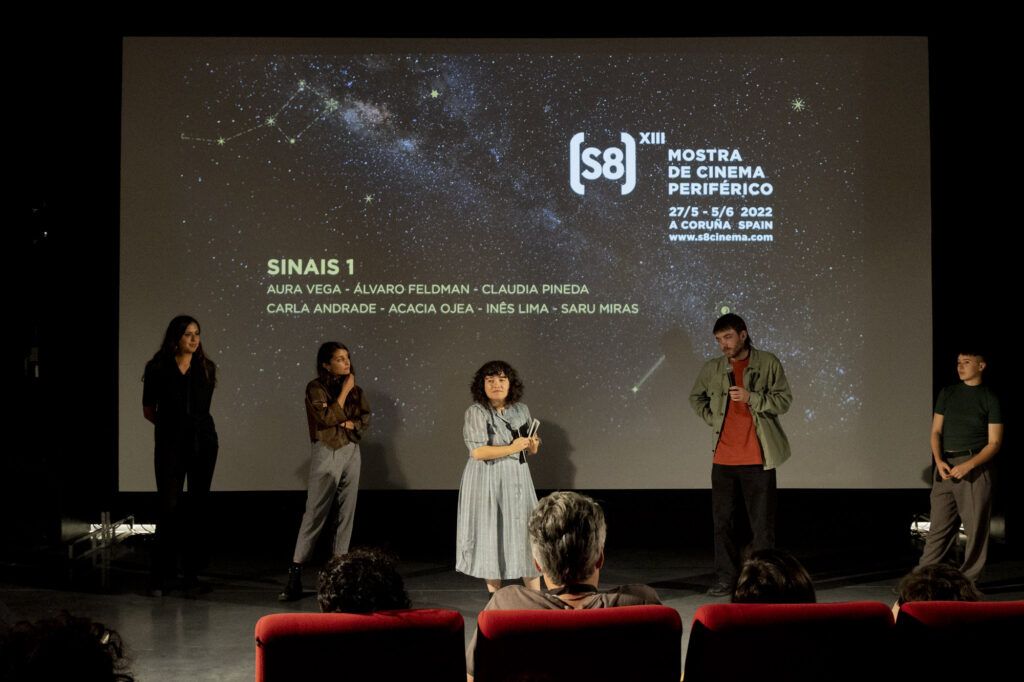 Furthermore, (S8) continued to serve as a promoter of film projects in development at INPUT, a space for tutoring and consultancy held in collaboration with the Luis Seoane Foundation. Here, Lur Olaizola; Vanja Milena Munjin Paiva and Concha Barquero gave advice on the projects Film Quilt by Sofía Blanco; Como un buzo muerto en el ojo de Dios by Rafael Guijarro and La peli del disco duro (The hard drive movie), by Claudia Negro.
The Mostra also encourages creation in analogue formats through the BAICC artistic residency programme, to which projects can still be sent until next 19 June to take part in its sixth call. In this programme, (S8) joins forces with Acción Cultural Española (AC/E) and the Liaison of Independent Filmmakers of Toronto.
In addition to this, the Mostra has bolstered its educational side like never before, with a commitment to attracting new audiences when it comes to spreading avant-garde cinema creation with screenings organized for more than 300 schoolchildren from schools such as IES Urbano Lugrís, IES Ramón Otero Pedrayo, CEIP Concepción Arenal, CEIP Sanjurjo de Carricarte, IES Ramón Menéndez Pidal and IES Eusebio da Guarda.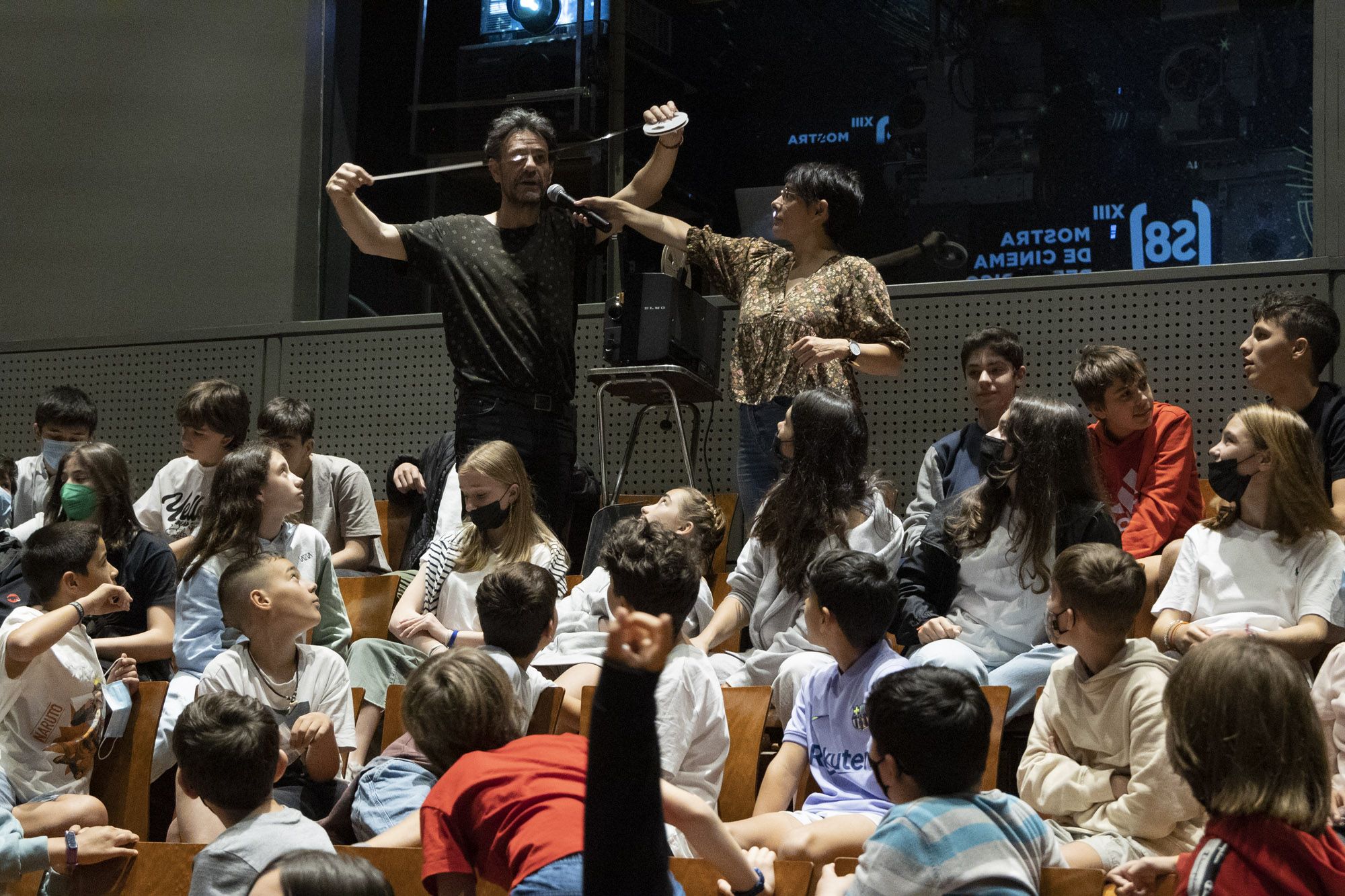 International meeting point for professionals
This year's (S8) also acted as a professional meeting point through its Observatory, the part of the festival dedicated to reflecting on different significant matters for the Mostra and the sector, which this year was split into two sessions. In "Between the shaft of light and the screen. Programming experimental cinema today", Angelika Ramlow of the Berlinale (Berlin, Germany), Ieva Balode, director of the festival Process (Riga, Latvia), Bryan Konefsky of Experiments in Cinema (Albuquerque, New Mexico, USA), and Scott Miller Berry of Workman Arts (Toronto, Canada), discussed how programming for cinemas and festivals is dealt with today.
The second of the meetings, "Mesa Proxecta. Social inclusion in film festivals" saw participation from some festivals such as (S8) and the Vigo Inclusive Film Festival as well as from associations that work directly with groups at risk of social exclusion such as the Adcor Foundation, Asperga, the Emalcsa Foundation and the Poten100mos Association.
The Mostra will be continuing its work in this sphere at the Luis Seoane Foundation next 17, 18 and 19 June through its XPRESA workshop, which uses cinema creation as a springboard for social inclusion and which will be given this year by the renowned director, producer and script writer Ainhoa Rodriguez.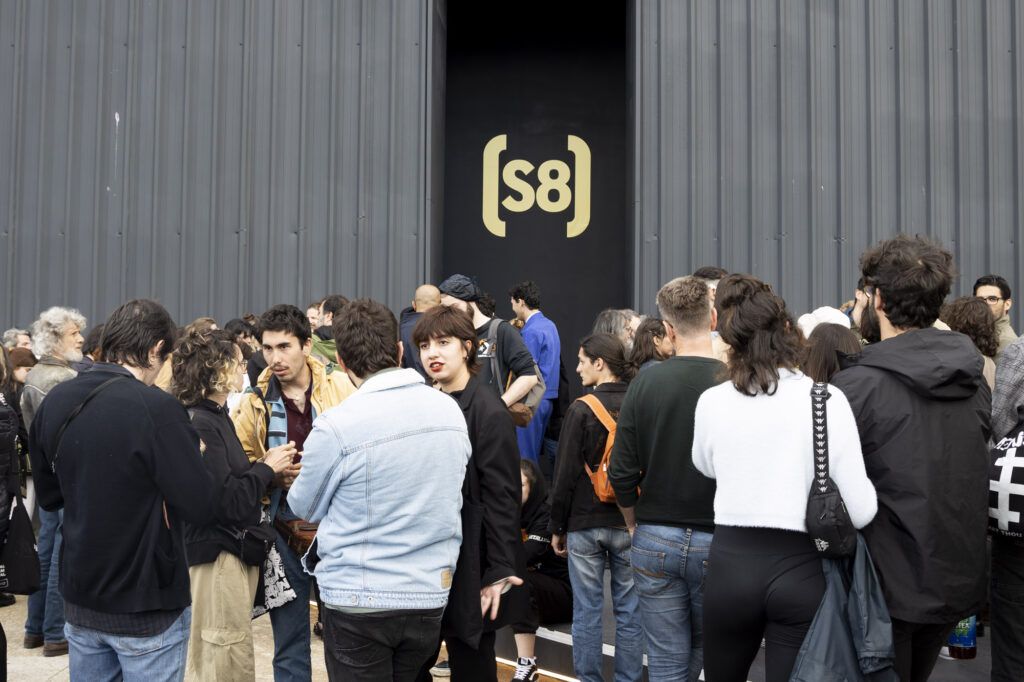 Support
The thirteenth (S8) Mostra de Cinema Periférico is organised by the eSe8 Association with the backing of institutions such as the Concello da Coruña (town council), the Deputación da Coruña (provincial government), the Xunta de Galicia (autonomous regional government) and the Institute of Cinematography of Audiovisual Arts of the Government of Spain, ICAA, as part of the latter's Recovery, Transformation and Resilience plan and the Next Generation EU package.
Furthermore, it has been possible to invite Philipp Fleischmann (director of the Schule Friedl Kubelka, Austria) to participate, as well as Angelika Ramlow (project manager of the Arsenal Institute for Film and Video Art, Germany), Bryan Konefsky (director of Experiments In Cinema, USA), Ute Aurand (producer and programmer specialising in contemporary cinema), Scott Miller Berry (director of Workman Arts, Canada), Ieva Balode (director of Process, Experimental Film Festival, Latvia), Vanja Milena (programmer of the selection committee for the International Film Festival of Valdivia, Chile), Amy Halpern (creator, programmer and teacher at USC, Los Angeles) in this year's (S8) thanks to the programme of Spanish Cultural Action (AC/E) for the internationalisation of Spanish Culture (PICE). This is being done in its visitor format, which makes it easier for Spanish cultural entities and institutions to have professional international cultural exemplaries in their activities and programmes present in Spain, in order to learn directly and personally about the range of Spanish creativity and culture.
It should be noted that the Mostra has also been able to benefit from the same programme in its mobility format, which intends for foreign cultural entities to have Spanish artists, professionals and creators in their programmes, travelling to Italy to present the programme ·The mechanics of light· within the programme of the Nomadica festival.