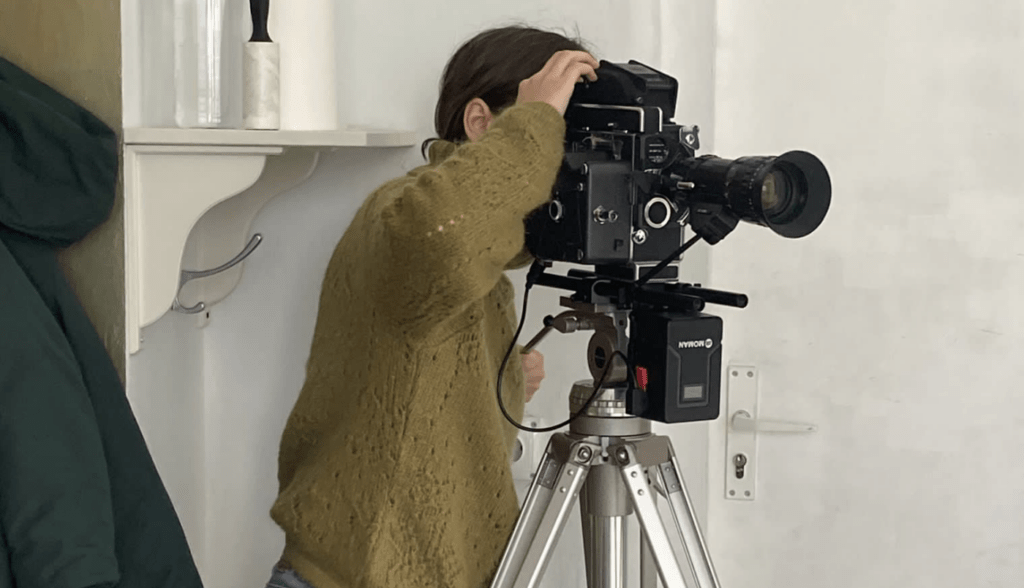 In 2022, the eSe8_LAB Scholarships were inaugurated to carry out cinematographic projects in a prestigious institution in Europe, financed by the European Union – NextGenerationEU as part of the Institute of Cinematography and Audiovisual Arts' Recovery, Transformation and Resilience Plan. Two projects were selected to be carried out for five weeks at the Baltic Analogue Lab in Riga, one of which was María Pinell Plana's (María Pipla), As time bends. We talked with her about her creation process there, an exploration of time and its dialogue between the possibilities of the body and film devices. As time bends will have its world premiere at the 14th (S8) next June 2023 in A Coruña.
– Could you give a short introduction to your project As time bends?
As Time Bends is based on an interest in the experience of time in film, and specifically how to create the effect of slow motion by exploring the rhythms of our bodies and the rhythms of cinematographic devices such as cameras and projectors.
In the project, I shoot a choreography performed by a contemporary dancer several times, using a different strategy in each shot to achieve this effect. I work with three variables: the possible speeds of a body to make a gesture, the possible camera speeds to record that gesture, and the possible speeds of a projector to display the gesture. This combination of variables allows me to explore the dialogue between the possibilities of the body and filmmaking devices, creating an exercise in contemplation in which I would like to pay attention to detail and to the power of a kind of time that seems to open up, expand and pass by in a way that's different from our present.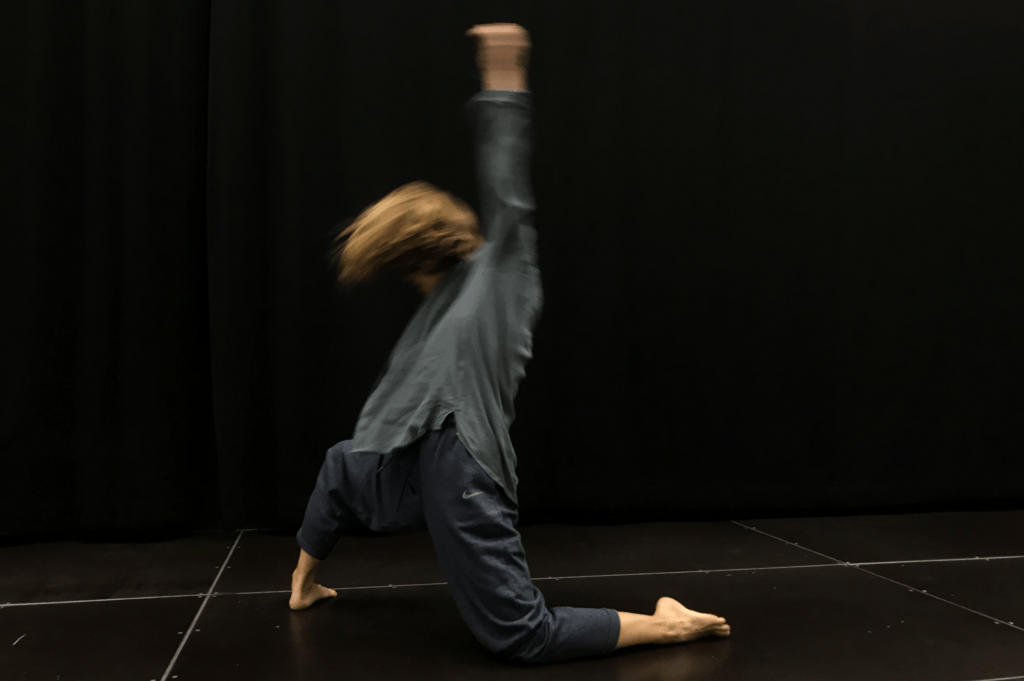 – Tell us briefly about the creative process during your stay at the Baltic Analog Lab in Riga, and how your project has evolved since its conception.
The process of creation in Riga was carried out together with Līga Ūbele, a Latvian contemporary dancer and choreographer with whom I collaborated [GS1] from the outset. We met shortly before travelling to the city. I explained the project to her and we connected because in her last job, Untitled, she had also explored very slow rhythms in movement and dance. I wanted to explore how a term that comes from cinema, slow motion, ends up permeating the body and at the same time what opportunities may arise for testing this change of rhythm.
Working together was very enriching, but also intense. In those four weeks, we set up the technical device for cameras and projectors, and we also choreographed a sequence of movements that would work in the project's favour. We wanted to find a balance between these two aspects and get them to have a dialogue, which requires rehearsal time and working one's way into the proposal, getting into that slowness, which we had to do in a short time. Even so, the experience became a crucial test to better understand the device, its needs and risks.
– What has it meant to you to have the opportunity to spend a month working entirely on an artistic project?
I was able to immerse myself in the creative process much more intensely, having time and resources to dedicate myself to it completely, which you can't always afford to do. I had just finished MASTER.LAV a few months before, and the residency allowed me to continue with a pace of work similar to the one I had at that school, where we were also very immersed in our processes. In fact, As Time Bends is one of the projects that I developed there, in a preliminary attempt that I carried out with Céline Latil. So it was great to be able to come back to it and also to do it within another context like the BAL from which to continue learning. That month was very important to finalise the project and better understand what was needed to continue developing it.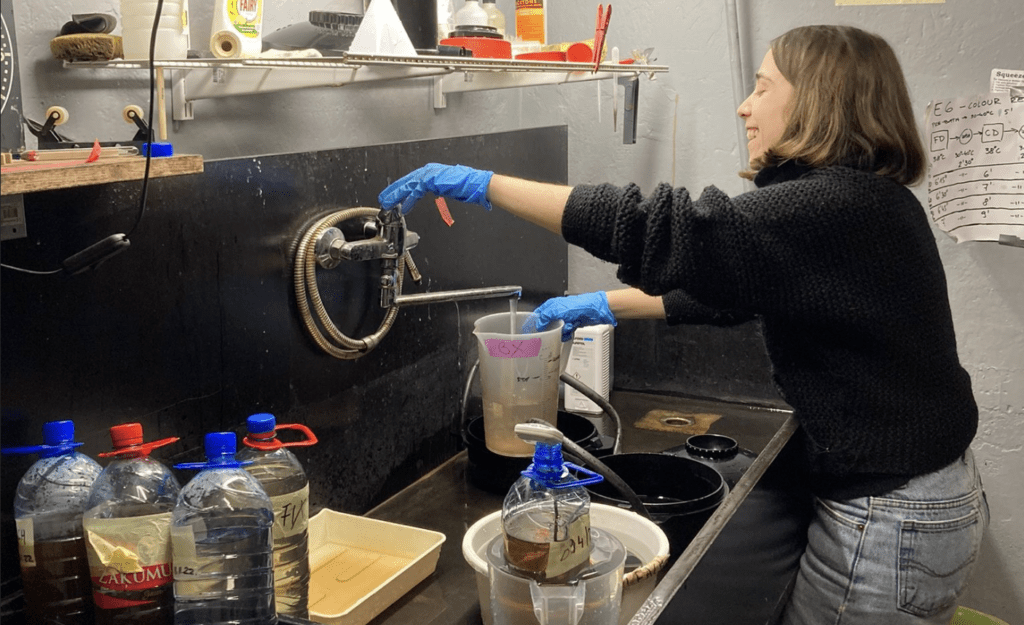 – How has your time at the Baltic Analog Lab influenced your work's artistic development? What were you able to explore there?
During my time at the BAL I was able to delve into the project's filming devices while at the same time looking more deeply into the manual film development process. In Riga I wanted to make the first trial I did at LAV a little more complex, so I used a Bolex with a motor to record sequenced shots of the choreography that we had put together, but at various speeds. The motor failed precisely in the shots I was filming in slow motion, so we didn't get that effect through the camera variant, but only through the body, which was curious. That's how I learned to include errors in the project, too: the lack of synchronicity and the particularities of each device and of the body.
Looking deeper into the manual developing process was also a very important part of the residency. Armands Andže, the laboratory manager at the BAL, and also Helena Estrela, helped me a lot in this process. At the BAL there's a clear vocation to experiment within the laboratory, embracing and assessing possibilities and processes that wouldn't be given space in other contexts. Furthermore, our time at the BAL coincided with their anniversary party, so it was also a chance to see some of the pieces and get to know their community better.
– You've worked side-by-side with Helena Estrela, a colleague in your stay at the BAL in Riga. What has that cohabitation contributed to your artistic experience?
Knowing and working with Helena was something that I greatly value within the whole experience. We got to know each other while we were carrying out our projects and we were lucky enough to get along. For me, it was a gift to be able to accompany each other in this process and share how we each saw it. Our projects were different, so I really had a good time and learned from her way of working, how she was compiling little stories about the sun in Riga to weave her film together, based on everyday experience, from day-to-day randomness.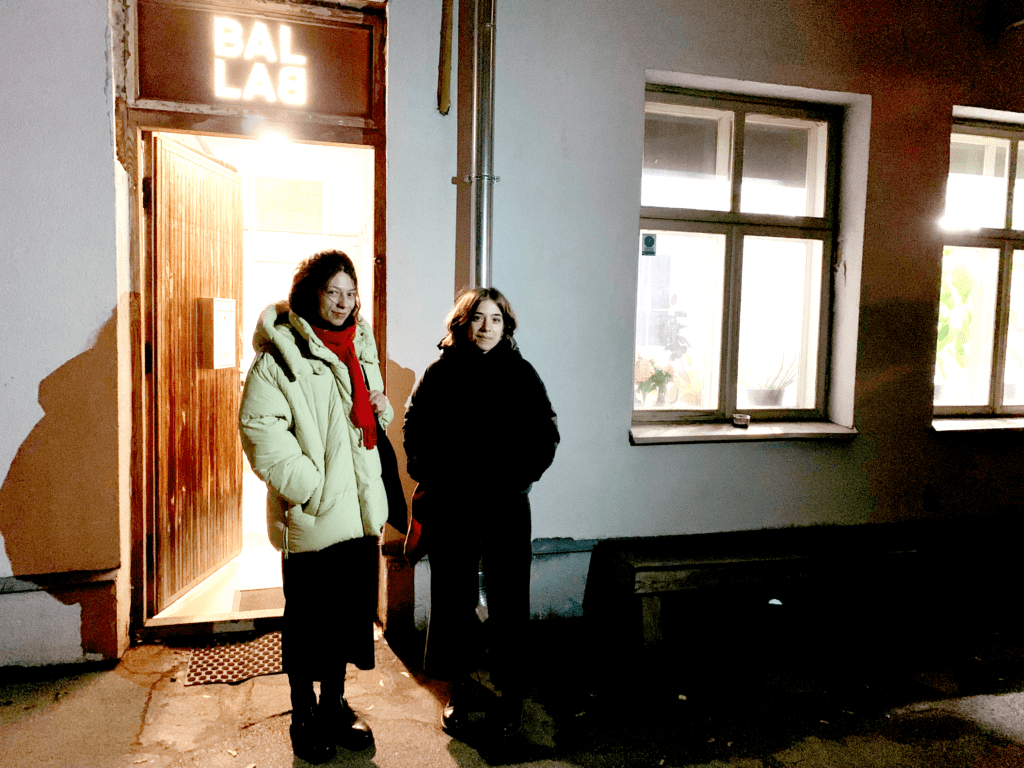 – In (S8) we pay special attention to cinematographic creation in real time in its different forms, such as film performance and expanded cinema. What's your opinion about this aspect of cinema?
I think both terms connect precisely with a corporeal dimension that interests me a great deal. Working with images always implies working with our body. The images have the ability to go right through us, challenging our senses. The aspect of the body becomes more acute in these more performance-related contexts of experimental cinema; it becomes an opportunity to explore. Last year I very much enjoyed the screenings at the Fundación Luís Seoane, with Gold Film by Deneb Martos, the projects by Laura Moreno Bueno and Jorge Suárez-Quiñones Rivas, and the pieces by Dianna Barrie and Richard Tuohy, so I look forward to seeing more in the next edition, and to continuing to make discoveries. In addition to the matter of the body and time, I also believe that these fields tend to create a deviation as regards the way of organising the projection space, which is something I would also like to continue exploring.
– What stimuli do you find in the analogue format of moving images, and what do you think this choice contributes to your creative process?
My re-encounter with analogue work has been somewhat fortuitous, but it has also greatly motivated me to explore the medium more deeply. Its physical nature allows you to experience its particularities and limits in a thousand ways, which also becomes a kind of power. Whenever I work on film, I think of this material dimension, of the minimum unit of the frame, of its relationship with the projections, of the process of filming an image. From a much more irrational point of view, when I started taking photos as a teenager it was in analogue format. I think there's something in the decision to continue working on a film that stems from there, from connecting with that vital time of testing and searching.
– What stage of the process is the project currently at, and what will the next steps be?
I returned from Riga eager to continue working on the project, so I decided to record again, gathering up everything I had learned with the piece made in the BAL. On this occasion, I'm collaborating with Èlia Brugulat, also a contemporary dancer from Barcelona, on recording a new choreography for a few months. We have polished some technical aspects and we want to take the opportunity to shoot a longer choreographic series, in which we can better roll out the proposal, and where the experience of film time is broader. At the same time, I'm working with the variable of the projector for the presentation at (S8), which in turn is the element that brings the dimension of real time and the specialisation to the piece. I really want to be able to show it and, in future, work on this relationship between the body and film devices more continuously.