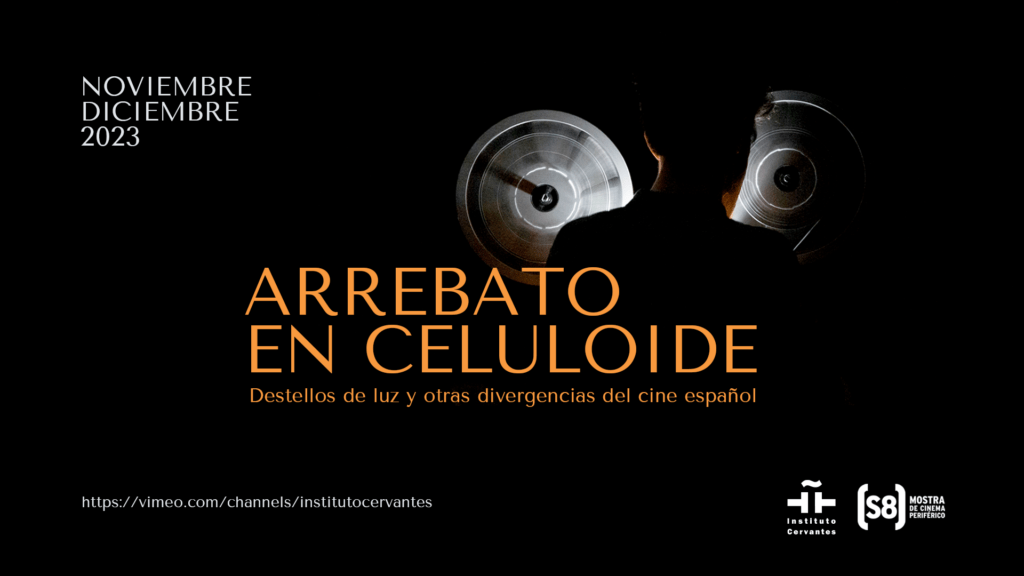 Throughout November, the Cervantes Institute will be providing the online programme Rapture on celluloid: Glimmers of light and other divergences in Spanish cinema, via its Vimeo channel. This will be curated by the director of the (S8) International Peripheral Film Festival of A Coruña, Ángel Rueda.
Each of the pieces selected will be available free of charge and can be openly viewed for 48 hours.
The programme is intended to take an eclectic tour of the different expressions with which the traditional 16 mm and Super 8 formats have taken shape in Spain's cinematographic panorama in recent years. This includes Super 8 (1996) by David Domingo, going on to offer a broad spectrum ranging from essays, non-fiction, film portraits and anthropological cinema, such as Rapa das bestas (2017) by Jaione Camborda, Sin Dios ni Santa María (2015) by Helena Girón and Samuel Delgado, Descartes (2021) by Concha Barquero and Alejandro Alvarado, Toxos e flores (2016) by Lucia Vilela, Devociones (2023) by Ángel Montero and María Serna, Ningún río me protexe de min (2021) by Carla Andrade, and La Tarara (2021) by Álvaro Feldman. The programme will also reveal the sensory relationship that analogue film brings to these filmmakers' productions. It is a tactile, light-sensitive medium that gives an intimate view, amplifying the themes they deal with in their films.
Super 8 and 16 mm saw their heyday in Spain in the 70s and early 80s as a point of reference for underground cinema, exemplified above all by Iván Zulueta, a veritable symbol of modernity and the quintessence of counterculture in Spain with his multiple short films in small formats and his only feature film, Arrebato. They spread the maxim: "publish your own fanzines; record and distribute your own albums and, of course, make your own movies."
Almost 20 years after the film Arrebato by Iván Zulueta, the visual artist David Domingo, also known as "Stanley Sunday", made his film Super 8 in 1996, immediately connecting with the legacy of international avant-garde filmmakers like Andy Warhol, George Kuchar, Kenneth Anger and Iván Zulueta himself, and ushering in a new era of celluloid cinema made in Spain.
Today, with celluloid having become completely obsolete, analogue cinema is once again providing a resurgence of new dreams and wishes among young filmmakers, who find the magic of craftwork in this "small-scale cinema", a kind of cinema that can be touched and handled with our own hands.
PROGRAMME