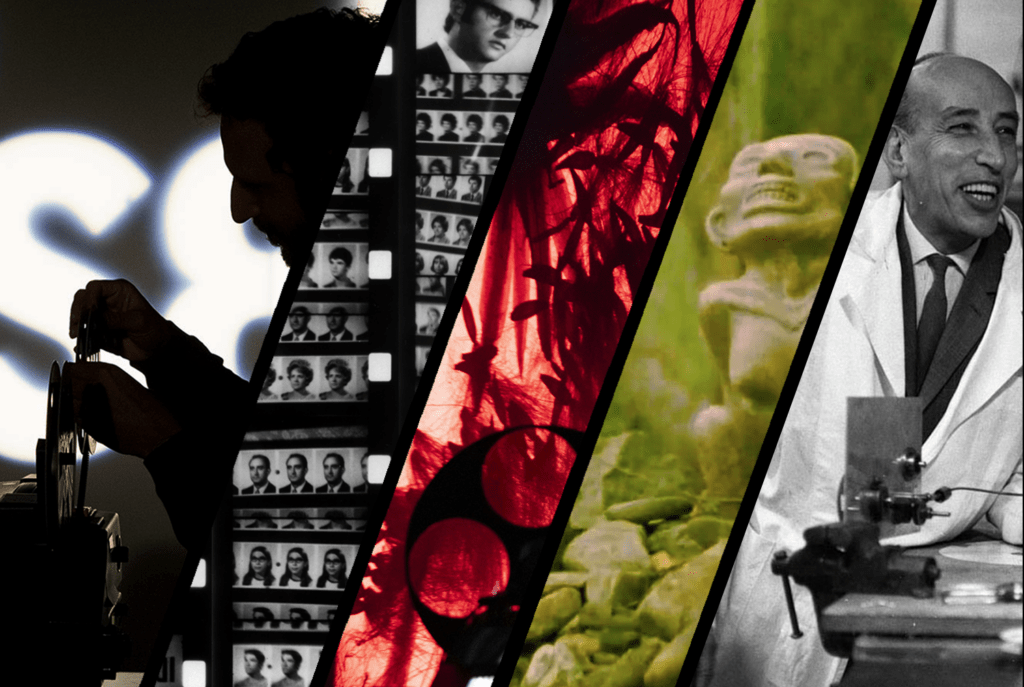 The (S8) of A Coruña continues with its incessant activity during 2021, this time in Switzerland, showing our cinema and our filmmakers beyond our borders, as part of one of its main signs of identity, the internationalisation of spanish cinema and the spanish culture.
From 6 to 9 October, the (S8) Mostra Internacional de Cinema Periférico of A Coruña will be the protagonist of the VideoEx Zurich festival, one of the most traditional avant-garde film festivals in Europe, where it has been invited to design part of the programme for its 2021 edition.
The (S8) will develop a broad focus on the avant-garde cinema in Super 8 in our country, which reviews the most groundbreaking representations of the underground cinema of the 70s and reaches the most contemporary ones that mark the future of experimental cinema in our country.
The focus will include Cinema as an Element, promoted by Acción Cultural Española (AC/E), curated by the (S8) for the international dissemination of José Val del Omar's work and with the collaboration of the Val del Omar Archive. The programme will open with a 35 mm screening of Tríptico Elemental de España, Val del Omar's major work, followed by an illustrated lecture with the participation of Piluca Vaquero, head of the Val del Omar Archive. Cinema as an Element will conclude with a session that aims to bring to light the connections between José Val del Omar's legacy and major works of the international scene of experimental cinema through a selection of early and contemporary pieces, and recent ones that look into the future. The program, which mirrors the structure of Tríptico elemental de España, highlights the formal devices put in place by Val del Omar while offering a filmic itinerary that is an invitation to explore the three elements approached in the trilogy: Earth, Fire and Water.
The focus continues with a double programme, which will revolve around experimental cinema in Spain, with a wide selection of super 8 films, ranging from historical titles such as Photomatons (1976) by Eugeni Bonet, A MAL GAM A (1976) by Iván Zulueta or For/Against (1983) by Eugenia Balcells, among others, to the present day with contemporary authors such as Valentina Alvarado, Jorge Suárez-Quiñones, Alberto Cabrera Bernal, Albert Alcoz or Lucía Vilela.
This activity of the (S8) in Zurich on Wednesday 6 October is part of the Día del Cine Español promoted by the ICAA, which brings together more than 250 national and international activities organised by institutions and entities related to the world of cinema.
Our participation will end with a film performance in 16mm and Super 8 by the directors of the Mostra, Ana Domínguez and Ángel Rueda, under their artistic name AA++.
EXPERIMENTAL CINEMA IN SUPER 8 IN SPAIN.
SESIÓN DOBLE
Wednesday, October 6th 9:15pm
Festivalkino Cinema Z3
In the "Spanish case", super 8 has made its strongest apparition among the 21th century filmmakers: since our first edition, we have witnessed and embraced this generation of artists who are exploring the possibilities of photochemical cinema through the unique capacities of super 8.
In this survey prepared specially for VideoEX, we want to present you not only these works, but also the ones who opened the path back in the 70s. In the first program, we go from the formal/political experiments by Bonet and Balcells (both inspired by USA experimental cinema) and the humorous and utopic mockumentaries by Juan Sebastian Bollaín, to the influential and radically original work by Iván Zulueta, followed by the link between this generation and the next: the imaginative and witty films by David Domingo, AKA Stanley Sunday, who started his activities in the 90s.
In the second program, devoted to the super 8 cinema made in the present century, we put together works by already consolidated filmmakers such as Oriol Sánchez, Laboratorium, Albert Alcoz and Alberto Cabrera Bernal, along with a new generation, active since a few years ago, in a heterogeneous and colorful program that shows (once more) that, definitely, film is not dead.
PART ONE: THE 20TH CENTURY
– Photomatons, Eugeni Bonet, Spain, 1976, Super 8, 5 min
– FOR/AGAINST, Eugenia Balcells, Spain, 1983, super 8 to HD video, 3 min.
– SEVILLA TUVO QUE SER, Juan Sebastián Bollaín, Spain, 1979, super 8 to HD video, 9 min.
– A MAL GAM A, Iván Zulueta, Spain, 1976, super 8 to video, 34 min.
– SUPER 8, David Domingo, Spain, 1996, super 8, 8 min.
PART TWO: THE 21TH CENTURY
– QUIXOTTE, Oriol Sánchez, Spain, 2016, super 8, 1 min.
– CÓMO DIBUJAR ANIMALES TRISTES, Laboratorium (Laura Ginès y Pere Ginard), Spain, 2009, super 8, 5 min.
– CADA CUATRO FOTOGRAMAS, Alberto Cabrera Bernal, 2009, super 8, 2 min.
– ESPECTRO CROMÁTICO, Albert Alcoz, Spain, 2015, super 8, 3 min.
– BREATHING EXERCISES, Blanca García, Spain/United Kingdom, 2021, super 8, 3 min.
– SPINOZA/ONGODIST, Bruno Delgado Ramo, Spain, 2021, super 8, 11 min.
– BIONTE, Lucía Vilela, Spain, 2015, Super 8, 6 min.
– EL MAR PEINÓ A LA ORILLA, Valentina Alvarado, Spain, 2019, super 8, 5 min.
– 鳴鳳 堂 · Meihōdō, Jorge Suárez-Quiñones Rivas, Spain, 2020, super 8, 11 min.
– #005 Y #006, Yonay Boix, Spain, 2021, super 8, 7 min.
– CÁDIZ, Gadea Burgaz, Spain, 2020, super 8, 3 min.
VAL DEL OMAR – EL CINE COMO ELEMENTO.
PROGRAMA 1 – TRÍPTICO ELEMENTAL DE ESPAÑA.
Thursday 7 October. 5:45pm
Festivalkino Cinema Z3
José Val del Omar (Granada, 1904 – Madrid, 1982) is an essential, unmatched referent in the world of cinema, not only in the context of his own country, but also at an international level. A filmmaker with a unique poetic vision, he was also an inventor, a mystic, and a man with a visionary mind. The lucidity of his creative gaze has been the object of many studies, exhibitions, and retrospectives around the world.
The Elementary Triptych of Spain is a monumental work by Val del Omar, a trilogy that takes us on a trip across Spain from north to south, from Galicia to Castile and Granada, in an exploration of three elements: earth, fire, and water. The poetic and symbolic richness of the films that compose this trilogy is unparalleled – to materialize them and convey the intense atmospheres that became a trademark of his work, Val del Omar designed and developed, all by himself, unique devices that made them possible.
The first of them, Desbordamiento Apanorámico de la Imagen, anticipates what we now know as expanded cinema. This optical device allowed the author to project images intended to be perceived as extrafoveal visions: abstract patterns that went beyond the screen and filled the space of the movie theatre. The second device, Sonido Diafónico, is a sound system that distributes sound into different channels in a way that intends to stimulate an intense psychological experience in the viewer. The third device, which he called TactilVisión, is a 3D cinema system that he put together by projecting successive lights on the screen and altering their patterns and directions.
Val del Omar's films also introduced many resources that we see in avant-gardist cinema, such as time lapses, slowdowns, distorting filters, alternations of positive and negative images, and multiple audiovisual techniques of a radical beauty. Val del Omar's legacy builds bridges that connect it with relevant artistic movements, from the first avant-gardist cinema to flicker films.
– Acariño Galaico (de barro). José Val del Omar, Spain, 1961-95, 35mm.
– Fuego en Castilla (tactilvisión del páramo del espanto), José Val del Omar, Spain, 1958-60, 35mm.
– Aguaespejo Granadino (La gran siguiriya), José Val del Omar, Spain, 1953-55, 35mm.
PROGRAMA 2 – VAL DEL OMAR, EL INGENIERO MÍSTICO DE ANDALUCÍA. LECTURE BY PILUCA BAQUERO
Thursday 7 of october 8:30 pm.
Festivalzentrum Kunstraum Walcheturm
Piluca Baquero, director of Val del Omar's archive, presents a lecture on Val del Omar's life and work. For over 20 years, she has administered and supervised the preservation of Val del Omar's work, while working as a film producer and director of the bachelor's degrees in Filmmaking and Audiovisual Fiction at Camilo José Cela University. In this presentation we will learn more on his work in the Pedagogic Missions of the Republic, his experiments with image and sound, his laboratories, his poetic vision and his conception of cinema as an art.
In the second part of this lecture, we will put into connection his work with the international avant garde scene, both historical and contemporary. Many of the formal and technical inventions key to the experimental cinema history were conceived at the same time, or before, by Val del Omar in the complete solitude of Franco's Spain, a hostile panorama for his inventions. Putting into connection these innovations with the filmmakers and works that are recognized as part of avant garde history is a way to understand the significance of his legacy, and to include him as part of this history.
PROGRAMA 3 – VAL DEL OMAR – CINEMA AS AN ELEMENT. PROGRAMA ESPEJO
Viernes 8 de octubre. 19:30.
Festivalkino Cinema Z3
This program, which mirrors the structure of the Elementary Triptych of Spain, highlights the formal concerns put in place by Val del Omar while offering a filmic itinerary that is an invitation to explore the three elements approached in the trilogy. The films in this selection were made both by canonical avant-garde filmmakers as well as innovative contemporary creators, proving that Val del Omar's discoveries are still present, be it as a primary or secondary influence. With this, we wish to bring to light the atemporality of his findings, which continue to be relevant today
EARTH
– Levantamiento de una Isla. Valentina Alvarado. Venezuela-España, 2017. Super 8 a vídeo.
– The Seismic Form, Antoinette Zwirchmayr, Austria, 2020, 16mm a vídeo.
– Altares, Colectivo Los Ingrávidos, México, 2019, 16mm.
FIRE
– Montañas Ardientes que Vomitan Fuego. Helena Girón and Samuel Delgado, Spain, 2015, 16mm a vídeo.
– The Adventure Parade, Kerry Laitala, USA, 2000, 16mm.
– HURRY, HURRY! Marie Menken, USA, 1957, 16mm.
WATER
– Cyclops Observes The Celestial Bodies. Ken Jacobs, USA, 2015, video.
– Eaux d'artifice. Kenneth Anger, US, 1953, 16mm
– Puchuncaví. Jeannette Muñoz, Chile, 2020, 16mm.
THERE ARE, INDEED, THINGS THAT CANNOT BE PUT INTO WORDS. THEY MAKE THEMSELVES MANIFEST
Saturday October 9th. 22:00 h.
Festivalzentrum Kunstraum Walcheturm
An expanded home movies experience, inspired by Ludwig Wittgenstein's Tractatus logico-philosophicus (1922). This film performance encourages us to explore the capacities that reside in the anonymous moving images created by amateur filmmakers in super 8 and 16mm. They reach a new dimension through multiple projection techniques and film collage, made in real time, enhancing their timeless and emotional effect to invoke one's own personal experience without words, only with images.
AA++
Is a lab for artistic creation made up of Ana Domínguez and Ángel Rueda, two artists of the moving image who develop their work through research and live representation of the optical-mechanical technologies of cinema. An exploration of the creative possibilities of film projection and its sensorial interaction linked to the perception of the spectator. Ana Domínguez and Ángel Rueda currently co-direct the (S8) Mostra Internacional de Cinema Periférico in A Coruña (Spain).