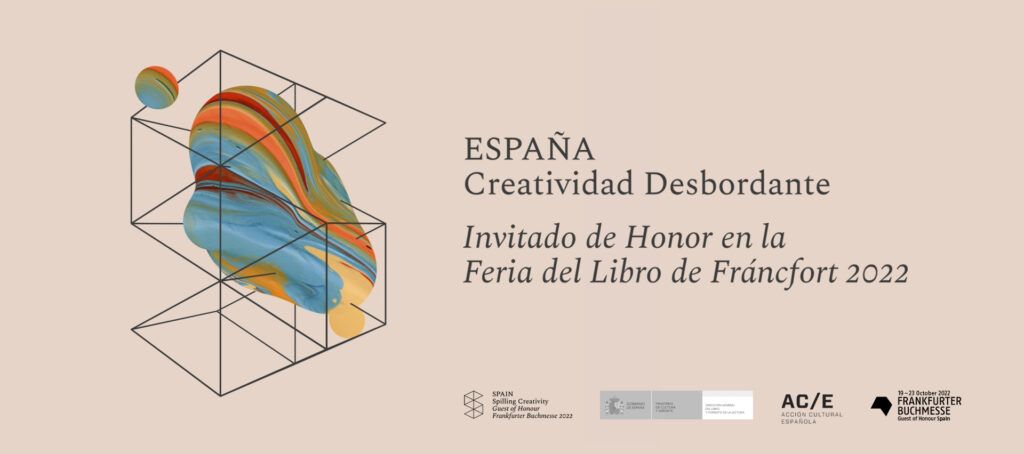 This year, 2022, Spain is the Guest Country of Honour at the Frankfurt Book Fair, the international book gathering of greatest commercial, cultural and professional importance in the world, providing a unique opportunity to present its culture and literature to the world.
The programme "Spain, overflowing creativity", with which our country is attending as guest of honour, will be an international showcase for Spanish artists with dance performances, theatre plays, exhibitions, musical events, dramatised readings, installations, film cycles and more at different venues in Frankfurt, as well as in other German cities.
The (S8) Mostra Internacional de Cinema Periférico da Coruña film festival is acting as an ambassador for Spanish cinema this year, from the origins to avant-garde, through the Val del Omar programme. Cinema as an element is co-organised with Acción Cultural Española AC/E, thanks to the invitation that the Cervantes Institute gave to Anna Dominguez, co-director of (S8), to be one of the programmers for the itinerant film cycle "Overflowing reality: Spanish independent cinema (2015-2020)".
The Mostra or festival is establishing itself as a benchmark in the panorama of avant-garde cinematographic creation events, internationalising its content and bringing it closer to audiences from all corners of the world.
Programme "Val del Omar. Cinema as an element"

José Val del Omar (Granada, 1904 – Madrid, 1982), who combined poetry, technique and mysticism in his work, has more than sixty patents to his name. He invented expanded cinema before the term had even been coined, and authored of one of the most brilliant works in avant-garde cinema in the world: the Elementary Triptych of Spain, a visionary work filmed in the 50s and 60s in which he travels around the country through its elements (water, fire and earth).
"Val del Omar. Cinema as an element" is being co-organised by the (S8) Mostra de Cinema Periférico da Coruña festival together with Acción Cultural Española (AC/E) and can count on collaboration from the Val del Omar Archive chaired by Gonzalo Sáenz de Buruaga. It will be focussing on the international repercussions of the filmmaker's work.

This programme will be held at the main venue of the Deutsches Filminstitut & Filmmuseum in Frankfurt and will begin on Tuesday 25th with an illustrated lecture by Piluca Baquero, director of the Val del Omar Archive, in which she will be taking us on an extensive tour of the creator's life and work. It will cover his work from the Educational Missions of the Republic to his experiments with image and sound, his laboratories, his poetic vision and his conception of cinema as art, including a demonstration of one of his inventions: cyclo-tactile energetic bionic optics, an accessory optical device for projectors to visualise images picto-luminically. Then the Elementary Triptych of Spain, Val del Omar's masterpiece, will be screened in 35 mm. It consists of the films Galician caress (of Clay) 1961-95, Fire in Castile (Tactile Vision from the Moor of Fright) 1958-60, and Water Mirror of Granada (The Great Siguiriya) 1953-55.

The next day, Wednesday 26th, the filmmaker and programmer Elena Duque will be giving a talk called "Cinema as an element", in which Val del Omar's work will be analysed as a timeless legacy that is still relevant today. It will conclude with a session relating his work to the panorama of international avant-garde cinema past, present and future. By way of a mirror with the Elementary Triptych of Spain, films will be screened by creators such as Valentina Alvarado, Kerry Laitala, Ken Jacobs, Marie Menken, Kenneth Anger, Jeannette Muñoz, Helena Girón and Samuel Delgado, Antoinette Zwirchmayr and the Colectivo Los Ingrávidos collective, showing that his pulse and his discoveries are still present, either as a direct or indirect influence, while giving a tour of the elements water, earth and fire that make up his work.

"OVERFLOWING reality: Spanish independent cinema (2015-2020)"
Acción Cultural Española, together with the Cervantes Institute, will also be presenting a sample of ten independent Spanish cinema films at the Frankfurt Book Fair as part of Spain's cultural activities. The selection has been chosen by five specialists linked to different institutions, festivals and associations, among whom there is the co-director of (S8), Ana Domínguez, accompanied by professionals such as Rocío Cabrera, Javier Miranda, Garbiñe Ortega and Tess Renaudo.

This sample—The year of discovery (Luis López Carrasco, 2020), Oscuro y Lucientes (Samuel Alarcon, 2018), Zumiriki (Oskar Alegría, 2019), Dead Slow Ahead (Mauro Herce, 2015), Mr. Liberto and the Small Pleasures (Ana Serret, 2017), Video Blues (Emma Tusell, 2019), Olej and the Rare arts (Andres Duque, 2016), Jordi's Letters (Maider Fernández Iriarte, 2019), Converso (David Arratibel, 2017), Ainhoa, That's not Me (Carolina Astudillo, 2018)—can be seen in venues within the Kommunale Kinos association's network of cinemas in German cities such as Frankfurt, Hamburg and Bremen, in some cases until the end of March next year.
With this, a window is being opened onto the way in which the constant reformulation of cinema has been undertaken in its ceaseless metamorphosis to stay alive in the age of platforms and individual consumption of audiovisual content. This generation of filmmakers who work in Spain are offering us one of the best panoramas to understand Spanish cinema.
---
The programme "Spain, overflowing creativity", with which Spain is participating as Guest of Honour at the Frankfurt Book Fair 2022, is being organised by Acción Cultural Española (AC/E) and the Directorate General for Books (Ministry of Culture and Sport) in collaboration with the Ministry of Foreign Affairs and Cooperation, the Ministry of Industry, Trade and Tourism, the Cervantes Institute and the Federation of the Publishers Guild of Spain.