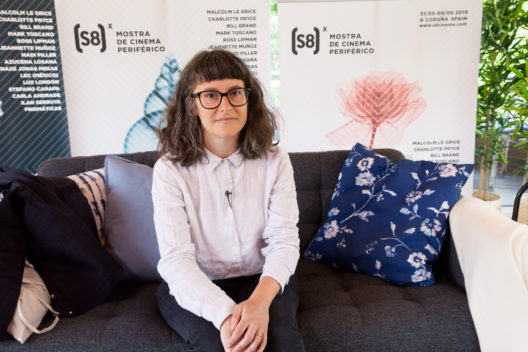 LUX is a vital organisation for experimental cinema not only in the UK, but also in Europe. Its origins trace back to the famous London Film-makers Co-op, which was the starting point one of the most rich and active avant-garde scenes ever, a vibrant community of pioneers and unique artists who, decades later, are still part of the culture circuits and continue to inspire new works and events. Today, LUX guards one of the most rich and extensive collections of experimental cinema in Europe, and is a fundamental entity in terms of its dissemination. This year we are pleased to have with us María Palacios Cruz, delegate of LUX, who has joined us to present, here at the (S8), a selection of LUX's works: a particular vision of a huge, rich collection. In the words of Palacios, "The collection is so big that it is immeasurable. There's no one working at LUX who really knows all the films we have. Benjamin Cook, who is the director, has been part of LUX since 1997, and not even him knows all the films we have". In this regard, and asked about the "famous" authors, the pioneers of the Co-op, Palacios says: "You need to make an effort to go deeper, to avoid telling the same story over and over again. […] In the end, you realise that there's a 10% of the collection that's the part of the authors that are in circulation now, and they're always the same". Working at LUX has broadened María's perspectives towards a new era of programming: "To me, since I started working at LUX, what really has changed is that I discovered the works by the women at the London Film-makers Co-op, especially those made in the 80s and 90s, which I didn't know at all. I was familiar with Lis Rhodes and Annabel Nicolson, the women that were part of Shoot, Shoot, Shoot!, but I didn't know Alia Syed, Ann Rees-Mogg, Sandra Lahire, Jayne Parker… I came to realise that being at LUX and getting to know the collection better has also changed what I choose to include in the programs I curate".
This played an important role when we asked here to design a program for (S8): "I didn't want to propose a greatest hits program, which is what a distributor would want. […] For me, it was important to find a perspective. I never program thematically: I work very closely with the artists, most of my programs start in a film or a person –from there I start building up. Thinking about how I could respond to your invitation, which was very generous, I remembered that Ann Rees-Mogg's film from which I took the title Nothing is something. I thought about focusing on small gestures, also thinking about films that aren't seen that much, that can be maybe more fragile".
It was a happy coincidence that Palacios' selection intuitively includes ten films (to celebrate our festival's ten years of life). Palacios tells us how, beyond her findings in LUX's vast collection, she also wanted to gather younger, more recent voices –she balanced her program with five historic films and five recent pieces, establishing a dialogue between them. A selection of pearls that shine in their simple complexity –join us to discover them at the film show next Saturday!