Watching a film by Deborah S. Phillips is an exercise that requires us to look at it from a perspective that goes beyond the film itself, that is, understanding Phillips as a visual artist that uses filmmaking as just another medium for expressing herself –just like she uses painting, collage, watercolors, lithography, slide film, performance, and installation art. As she herself stated during an interview with Francisco Algarín for Lumière, while recalling the screening of one of her films: "There was this person that used to write about experimental cinema. When I told him that I like to create images but that those images aren't always films, because most of the time I use paper for it, and I also love lithography… the man was visibly disappointed." Color and gesture are definitely two main pillars of Phillips filmography –her films are kaleidoscopic collages where manual techniques play a major role.
Deborah S. Phillips took her first steps as an artist in the 80s. Since then, using her hands and a wide range of techniques and materials, she has created many colorful pieces of delicate abstraction. She has resorted to edibles, drinks, nail polish, found objects, translucent materials… almost anything. Intangible elements also find their place in her art: scents, sounds, tactile sensations, her interest in the art and culture of the East, its languages and alphabets… In her films, each and every frame comprises a rich mixture of elements that are brought to life by her unlimited creative energy, encouraged by her encounters with inspiring people. 
In Braunschweig, between 1988-2001, she was part of the artists collective Laboratorium. Her activity as a member of the collective led her to try, for the first time, a Bolex 16 mm camera, which since then became (along with a Crass animation camera) her main artistic tool. These experiences encouraged her to make Untitled Colourmation (1992): her first solo film, a piece that was an extension of her pictorial universe –the first drop of a creative waterfall that keeps running, and whose refreshing waters are now canalized by this special program. In 2007, Phillips founded the art gallery Kunstverein Neukölln, a venue that has hosted multiple screenings and live performances as part of the self-sustained lab Labor Berlin. 
The second program is devoted to her 16mm films, with an emphasis on her research on color. In Purim, which explores red and blue, we see a motif that is recurrently brought to the front in many of Deborah S. Phillips' pieces: her own hands, working. This program also features her "red film" Capsicum, and her "green film", Im grünen Bereich. Both pieces have their matching artist book, edited by Phillips, and other works on paper that approach similar subjects. In her works, the author has also explored the color blue. Her experimentation with color –and on the subject of color– involves intricate collages using substances and objects of the researched colors and their names in different languages. This second approach to Phillips' work features films in which these strategies are intertwined with more experiential perspectives: PFFFHP TT! (an account of a serious biking accident) and Noor, 71, and Nach osten schauen, pieces that delve into the experience of inhabiting different places (and cohabiting with that which exists in them). Her quest for a sense of community, which traverses her filmography, is particularly present in Tornasolada sororidad dada, a film made in collaboration with the Argentinian artist Melina Pafundi (collaborations are common in Phillips' career; the performance Verde Vermelhar and her multiple works with Ruth Wiesenfeld and Wolfgang in der Wiesche are good examples of it) and in Yong bu fang chi, a film-portrait of her neighbor Samer, a translator-interpreter of Chinese. This piece, which takes up on the author's interest in words and the signs that represent them, brings closure to the path opened by A Printed Film, offering a new perspective on Phillips' work. 
PROGRAM 2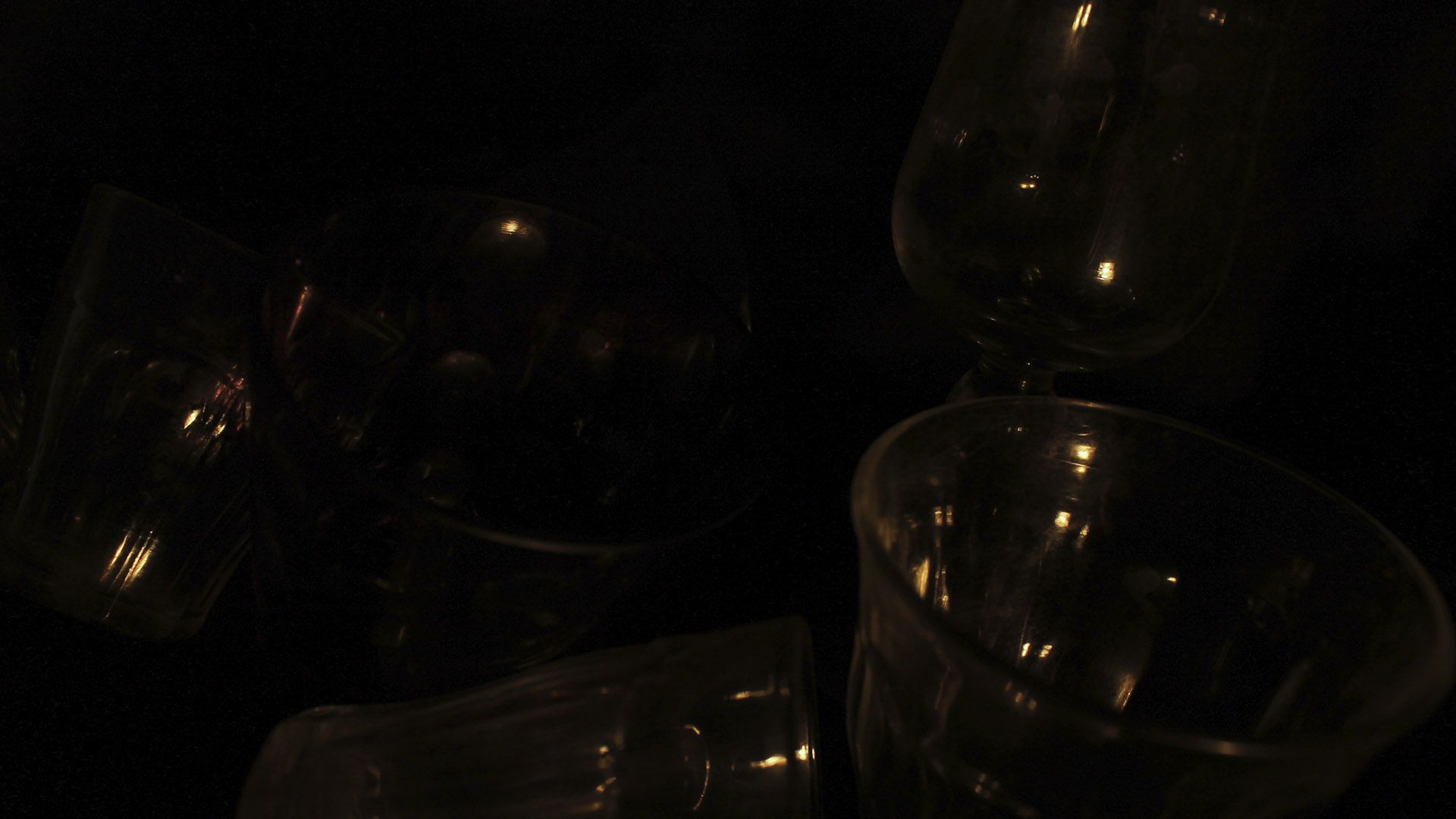 CHIN-CHIN | Deborah S. Phillips, Germany, 2013-2014, 16mm, 3 min.

Second "call for a toast" with Deborah S. Phillips (the first one will take place during Berlin night, on June 4 at Fundación Luis Seoane).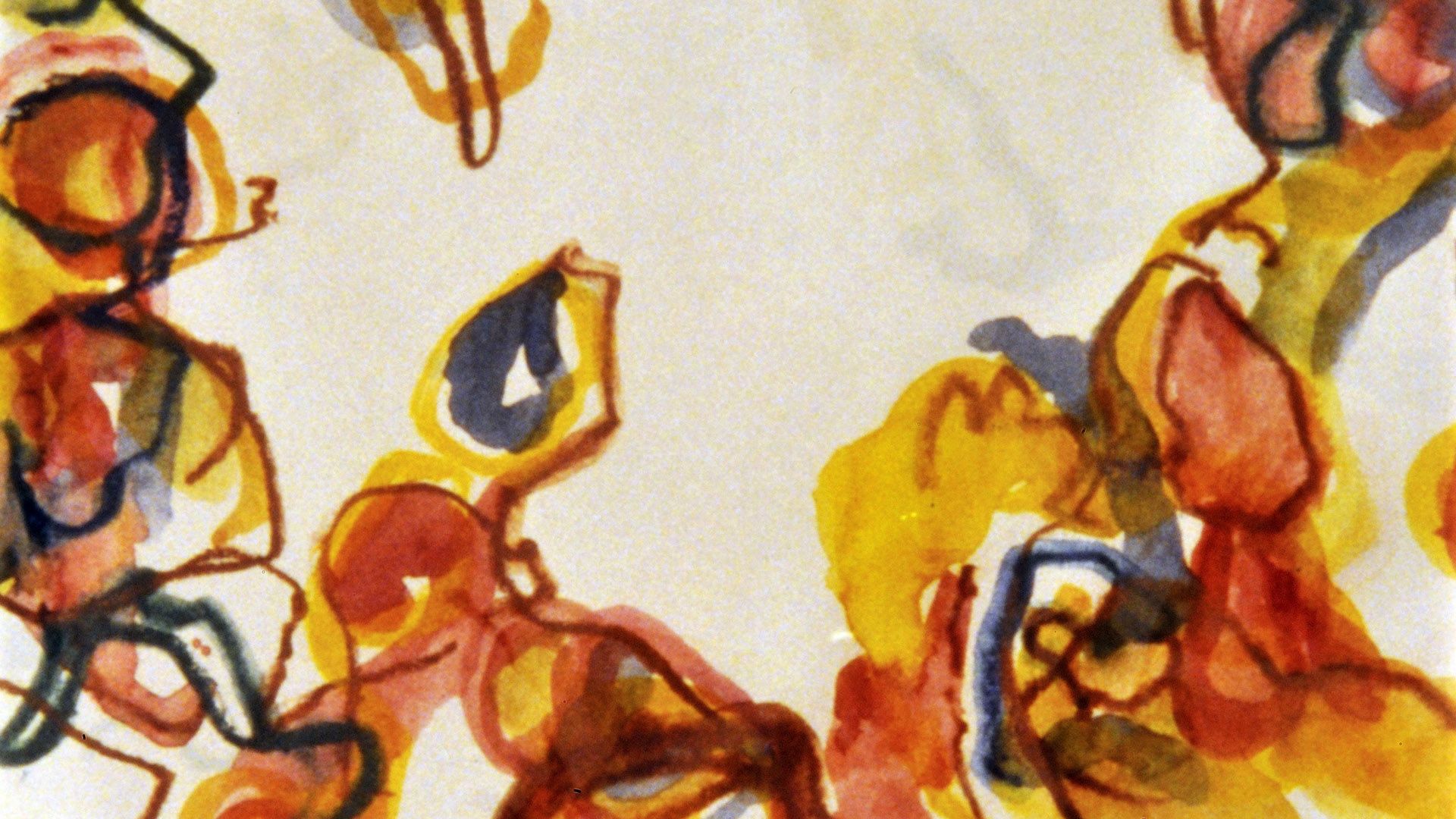 UNTITLED COLOURMATION | Deborah S. Phillips, Germany, 1992, 16mm, 1 min.

A path is never what we see (on the map). Suddenly… Poof! It disappears. Let's go back, then. Music by Wolfgang in der Wiesche. (Deborah S. Phillips)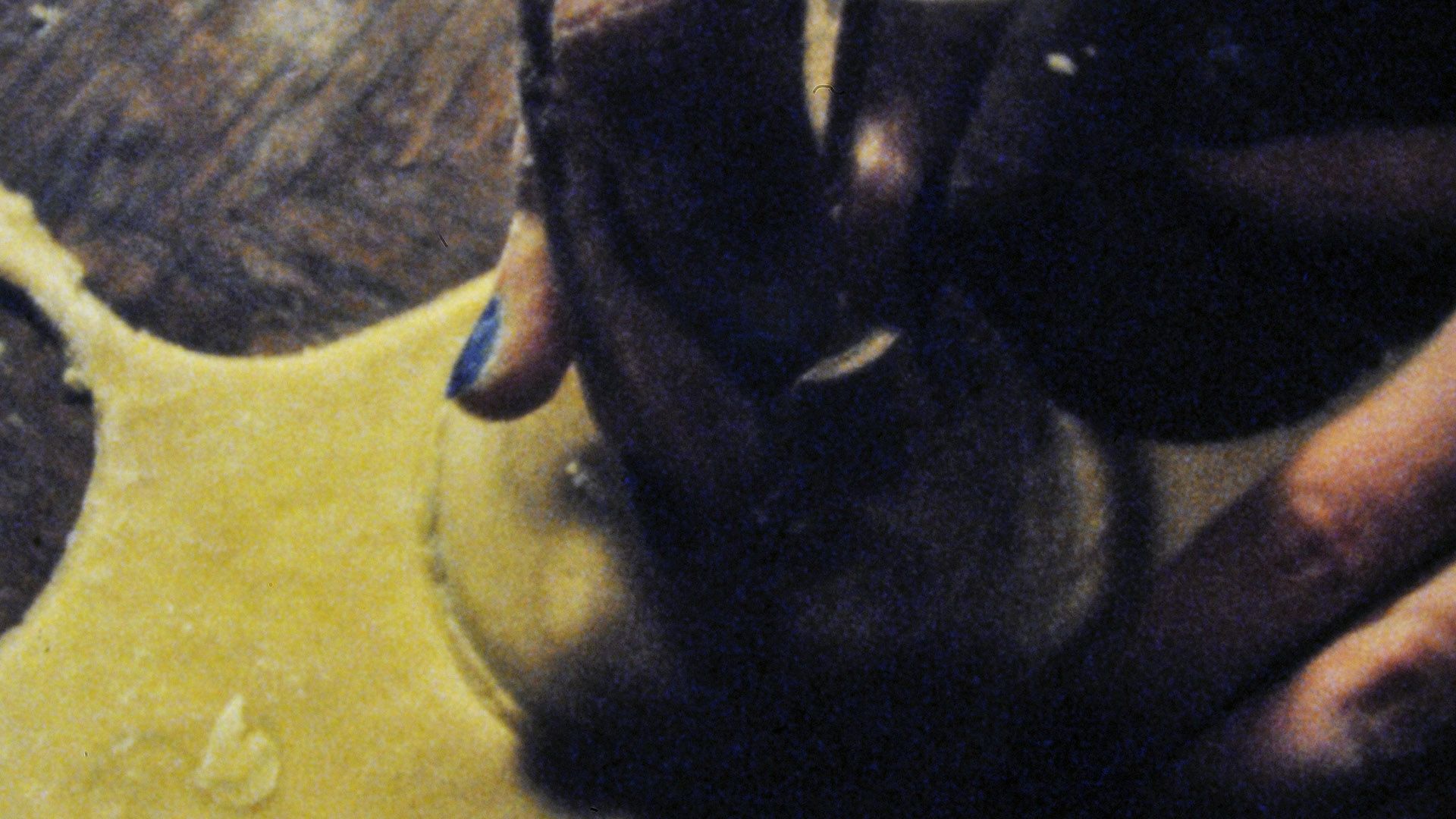 PURIM | Deborah S. Phillips, Germany, 1996, 16mm, 5 min.

Long ago in ancient Persia, Esther saved the Jews there from a massacre: Beauty and Justice prevail. 2 floating worlds – blue and red, and earth tones. We celebrate PURIM in remembrance. (Deborah S. Phillips)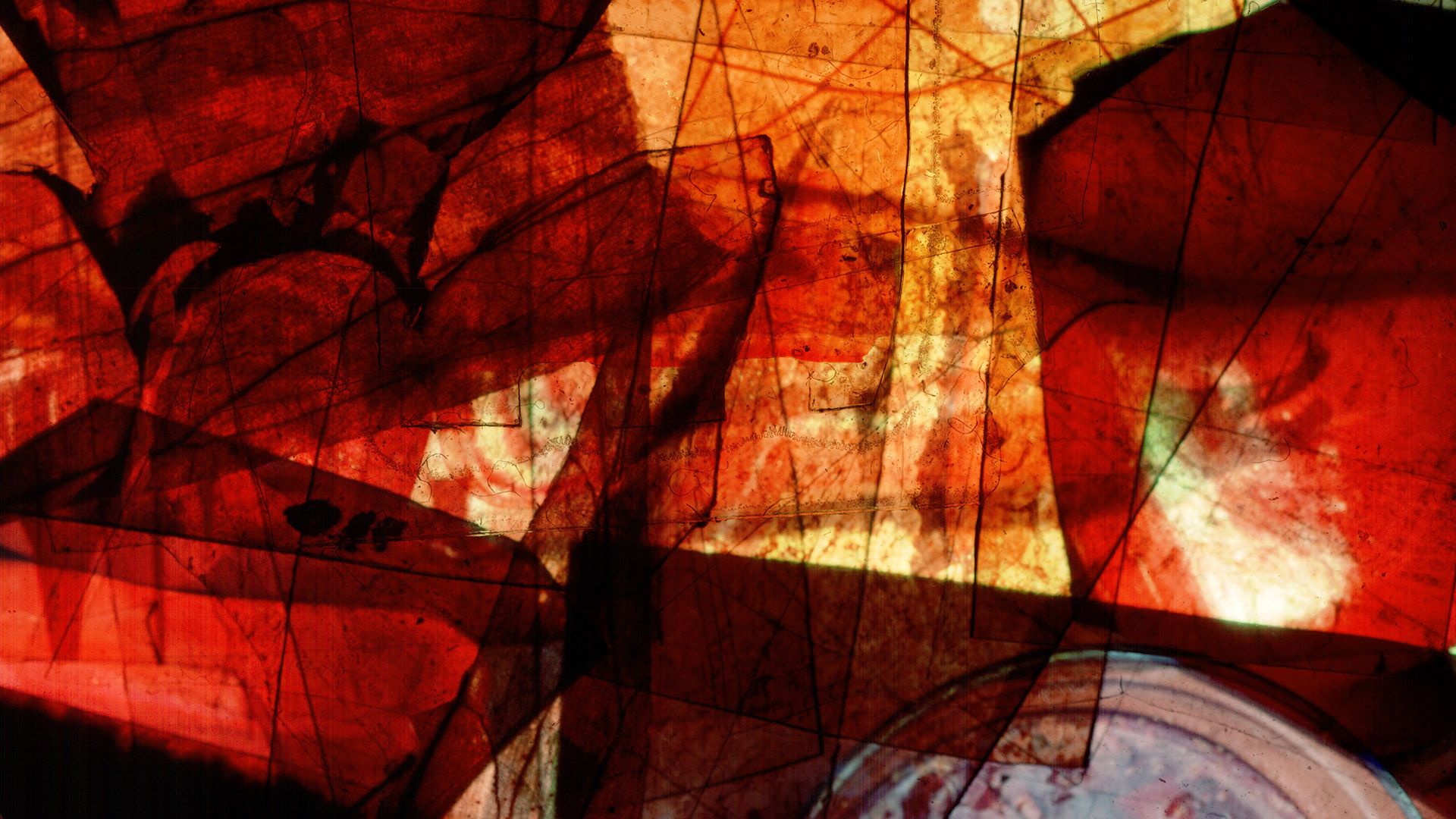 CAPSICUM | Deborah S. Phillips, Germany, 2008, 16mm, 11 min.

I spent years as a girl fighting to be allowed to have a Bar Mitzvah and read from the Torah, like the boys. I was given a portion containing four weird lines about a perfect red heifer, out of context. I have, since then, identified with this cow. And I've thought about it while cooking, as an architectural student and as a woman who prefers blue to red… Layered languages: Ruth Wiesenfeld. Musical composition: Wolfgang in der Wiesche. (Deborah S. Phillips)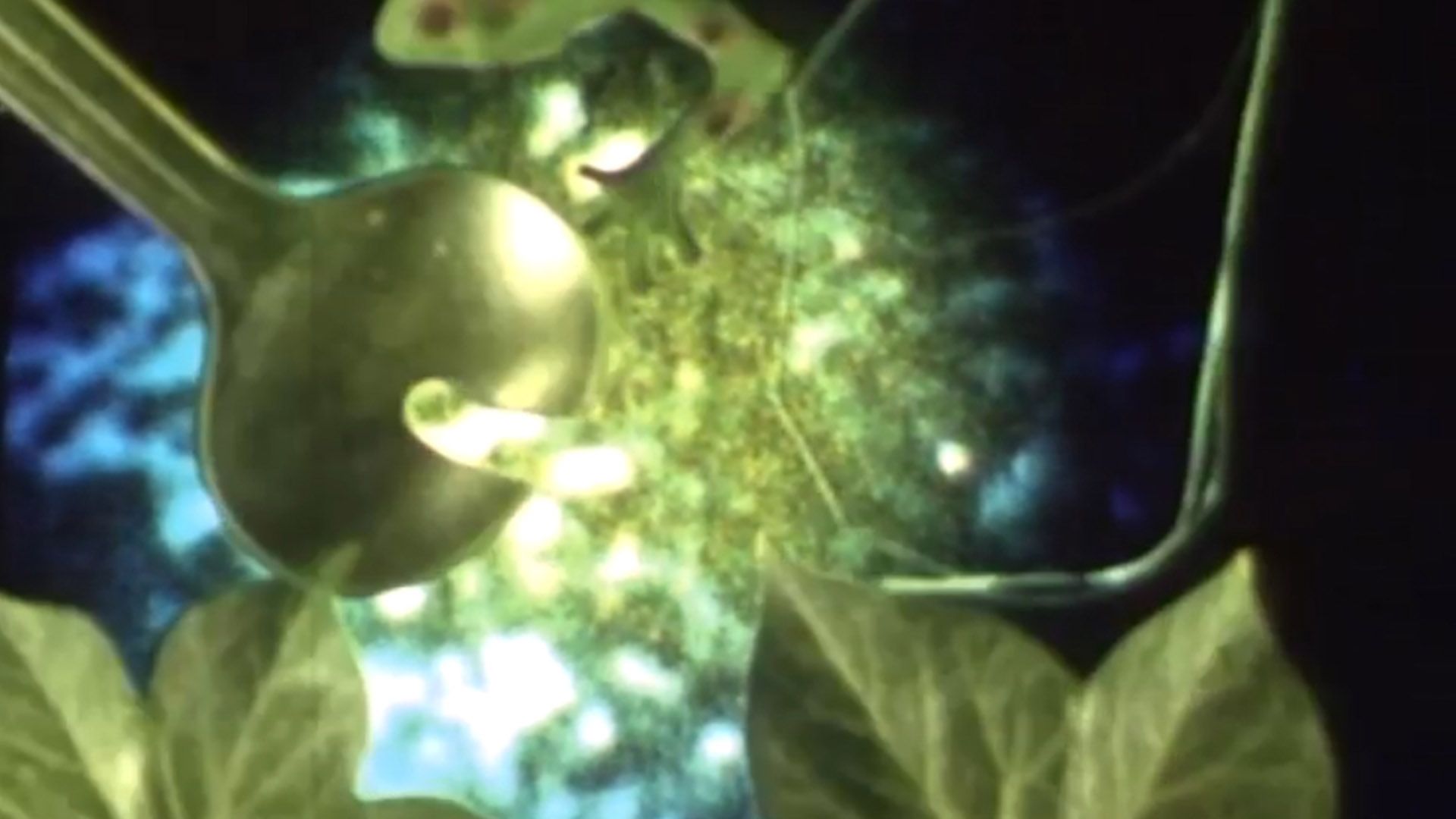 IM GRÜNEN BEREICH | Deborah S. Phillips, Germany, 2015-2017, 16mm, 14 min.

In German, when everything is alright, it is "Im grünen Bereich", literally, in the green zone. After 13 years of artistic research into the 3 colours of light (which started with Capsicum), this film (also made a handmade book) looks into the colour that is, basically, life – green. With music by Wolfgang in der Wiesche. (Deborah S. Phillips)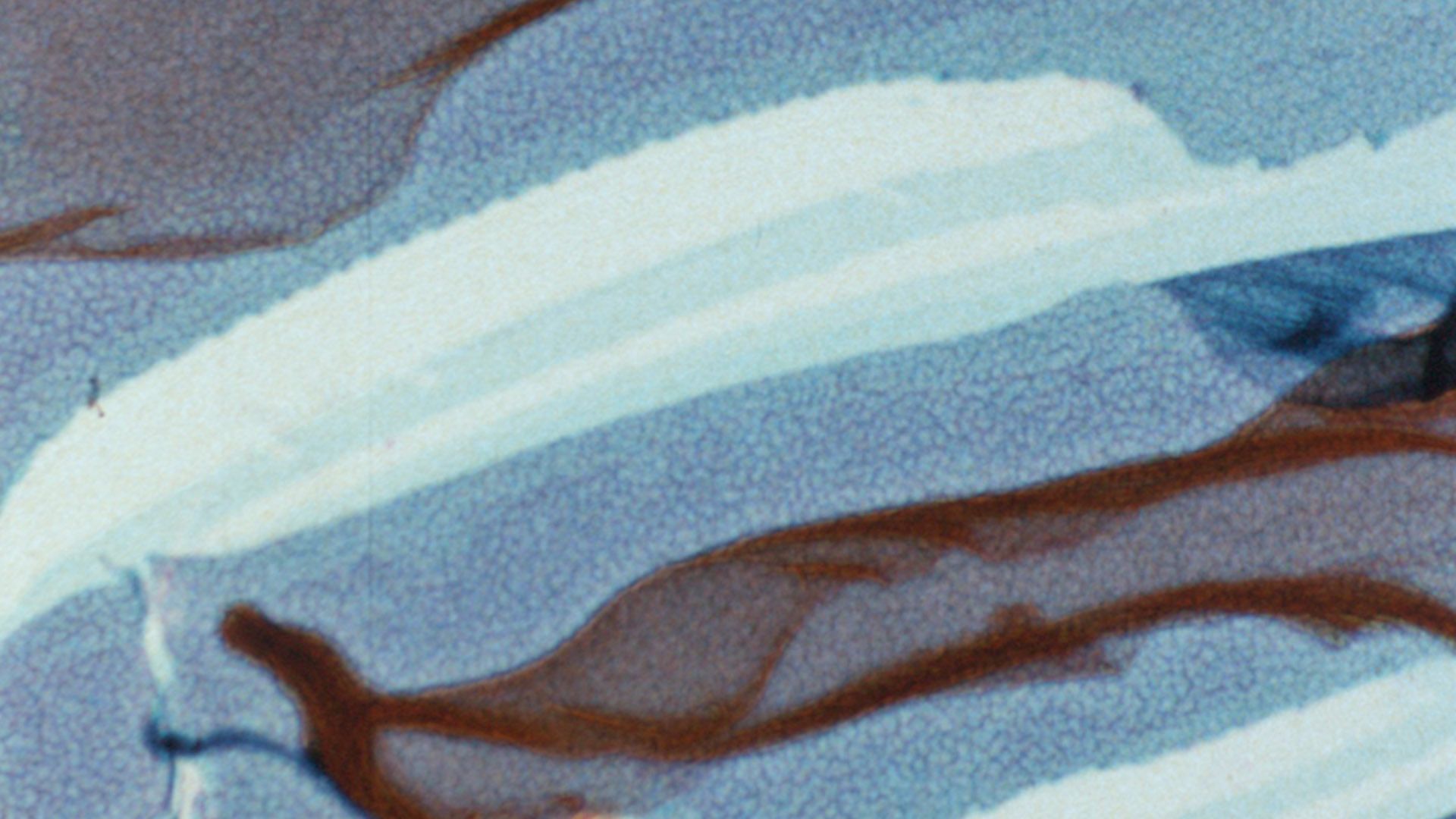 PFFFHP TT! | Deborah S. Phillips, Germany, 2012, 16mm, 5 min.
Red light. Two cars. So I hit the brakes- PFFFHP TT! And can't get up, can't move… Acoustic collage: Ruth Wiesenfeld. (D.S.P.)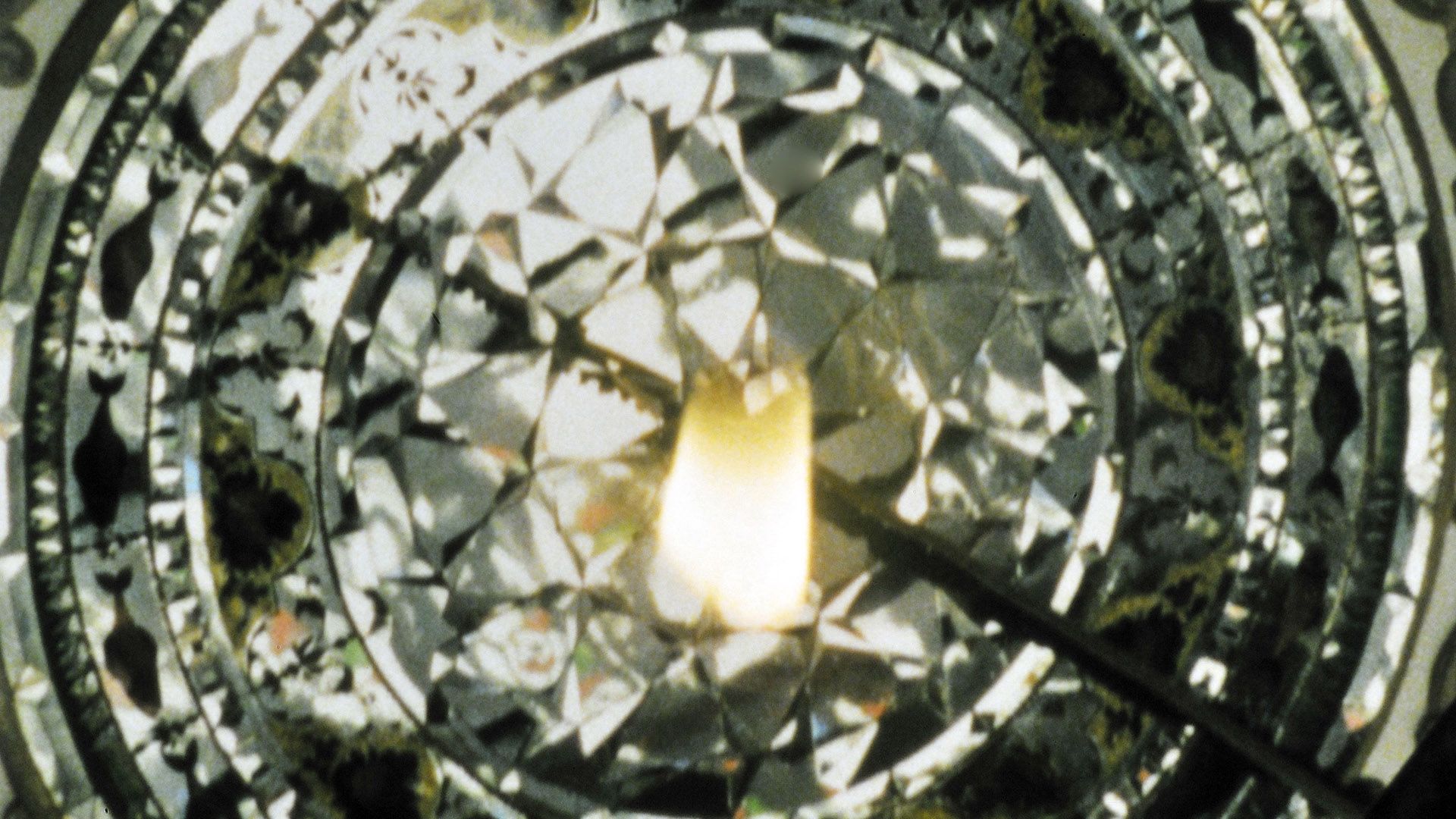 NOOR | Deborah S. Phillips, Germany, 2003, 16mm, 6 min.

"Noor" or light. Light & colour induce hope. This composition is a reaction to a whinging zeitgeist, threatened with the possibility of war. A still-life in time, a means of having hope. The Allam house in Esfahan was being renovated when we were there. It had been damaged during the Iran-Iraq war. Other footage was shot in super 8 in Berlin and in the Polish countryside. (Deborah S. Phillips)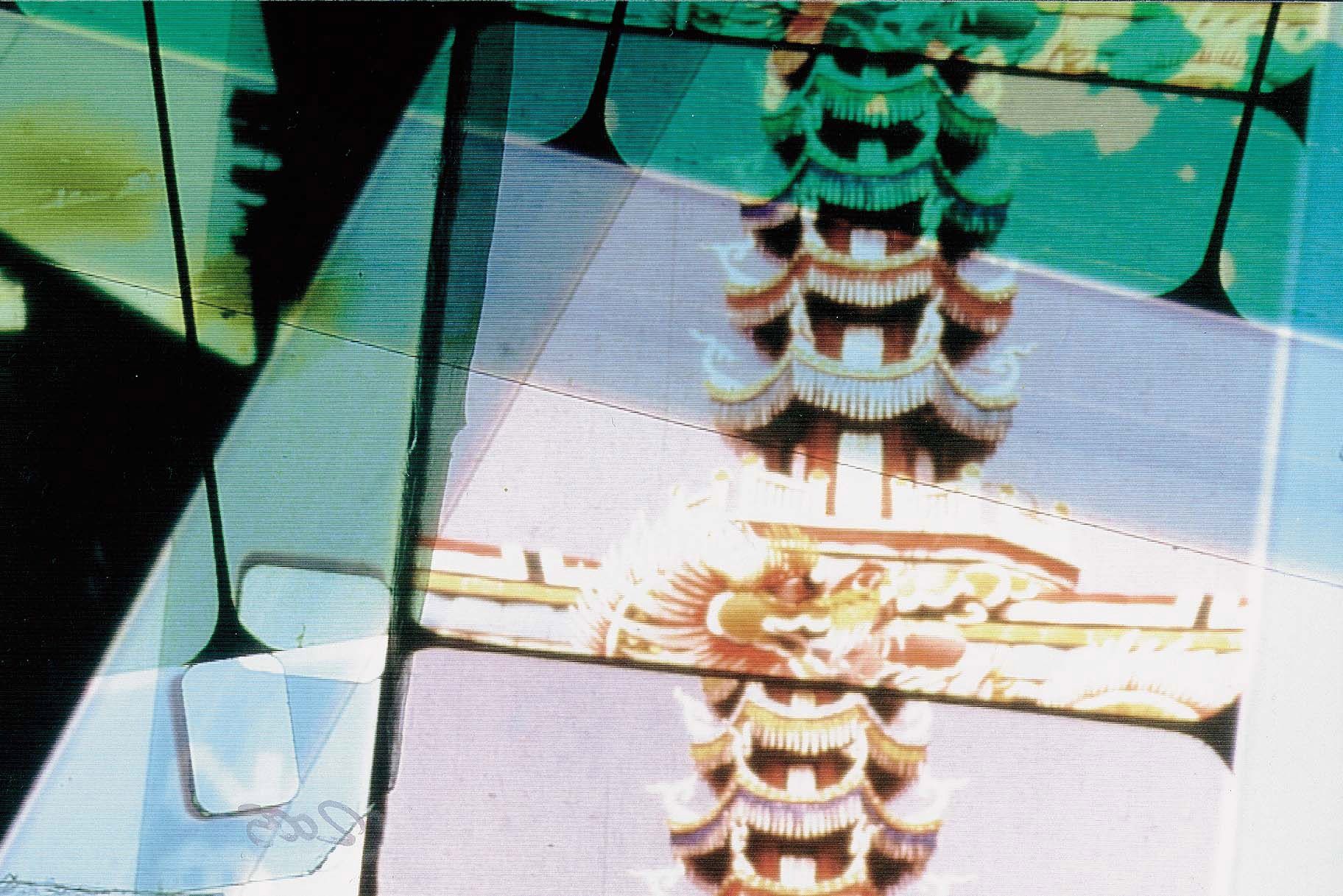 71 | Deborah S. Phillips, Germany, 2005, 16mm, 8 min.

71 is guided by impressions and feelings of an artist during shooting: a feeling of absurdity that comes when one travels to the back of beyond without ever reaching anywhere. (Deborah S. Phillips)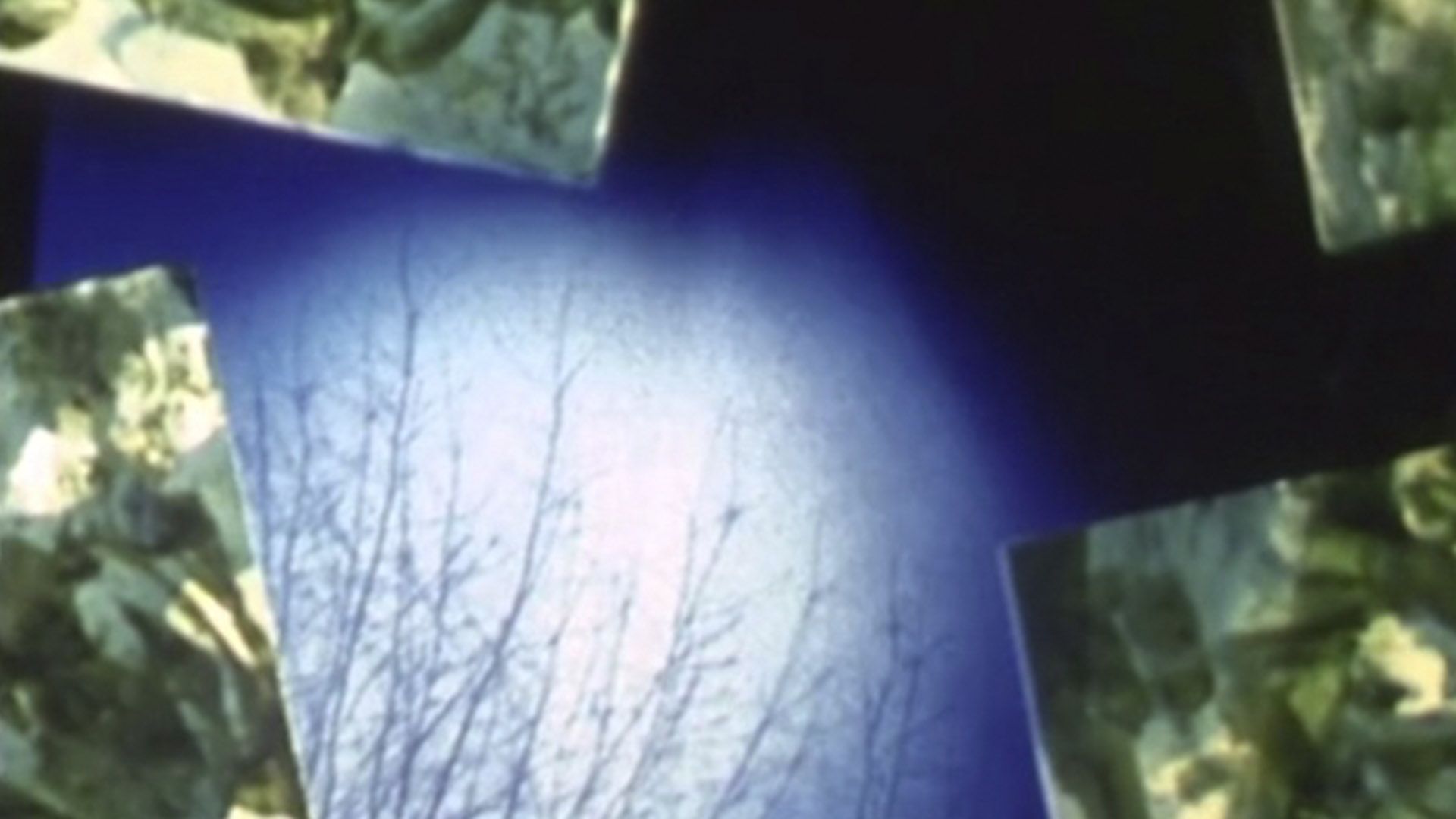 NACH OSTEN SCHAUEN | Deborah S. Phillips, Germany, 2016-2017, 16mm, 2 min.

Reflections on the joy of being able to use a large studio to paint & to be able to film as well for a short time. Filmed in Kunstquartier Bethanien, Berlin-Kreuzberg. (Deborah S. Phillips)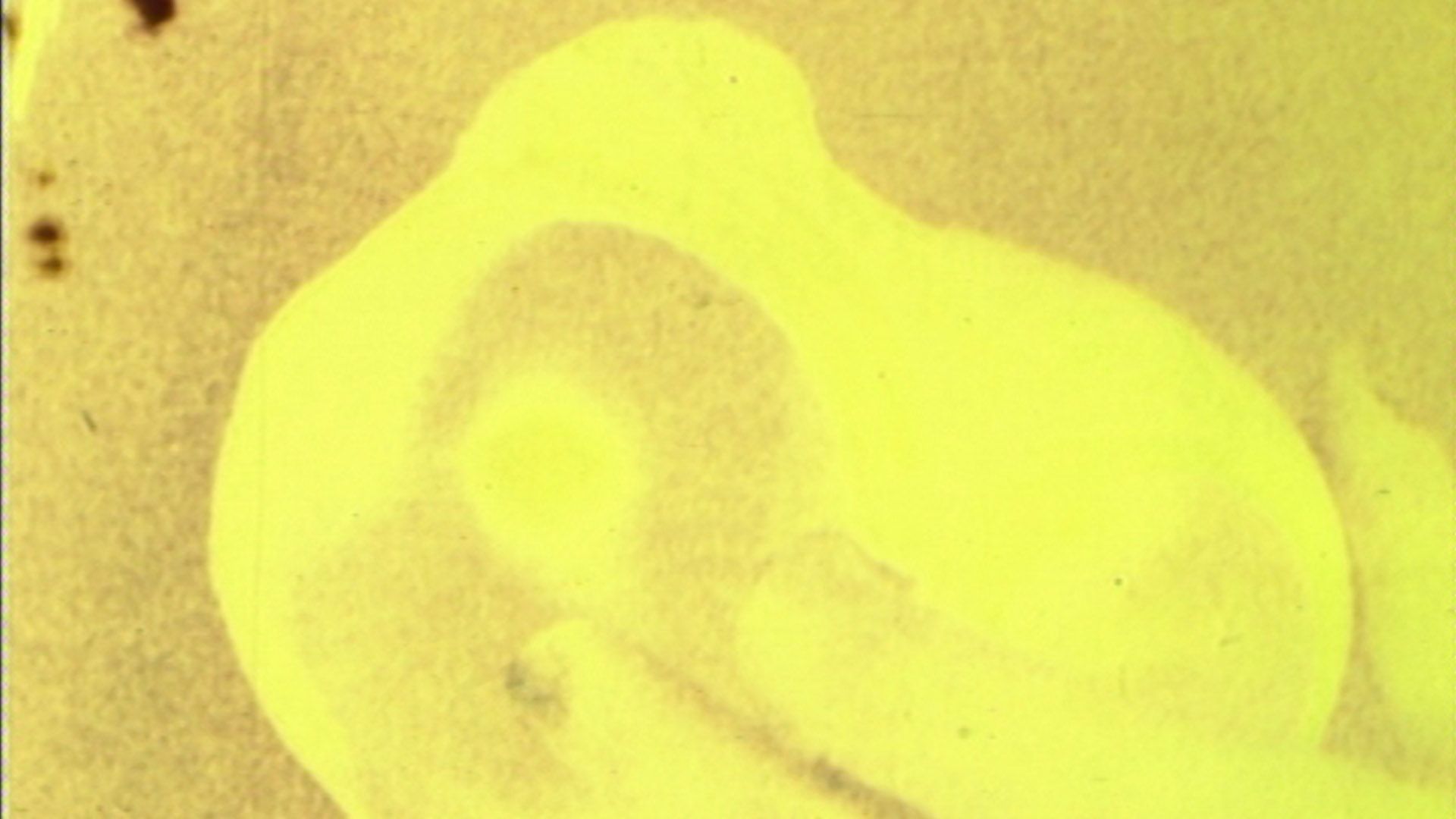 TORNASOLADA SORORIDAD DADA | Deborah S. Phillips, Melina Pafundi, Germany, 2019, 16mm, 3 min.

This film explores the handing over of objects from one hand to another. Each version of the film was developed differently. This one is the number 4. (Deborah S. Phillips)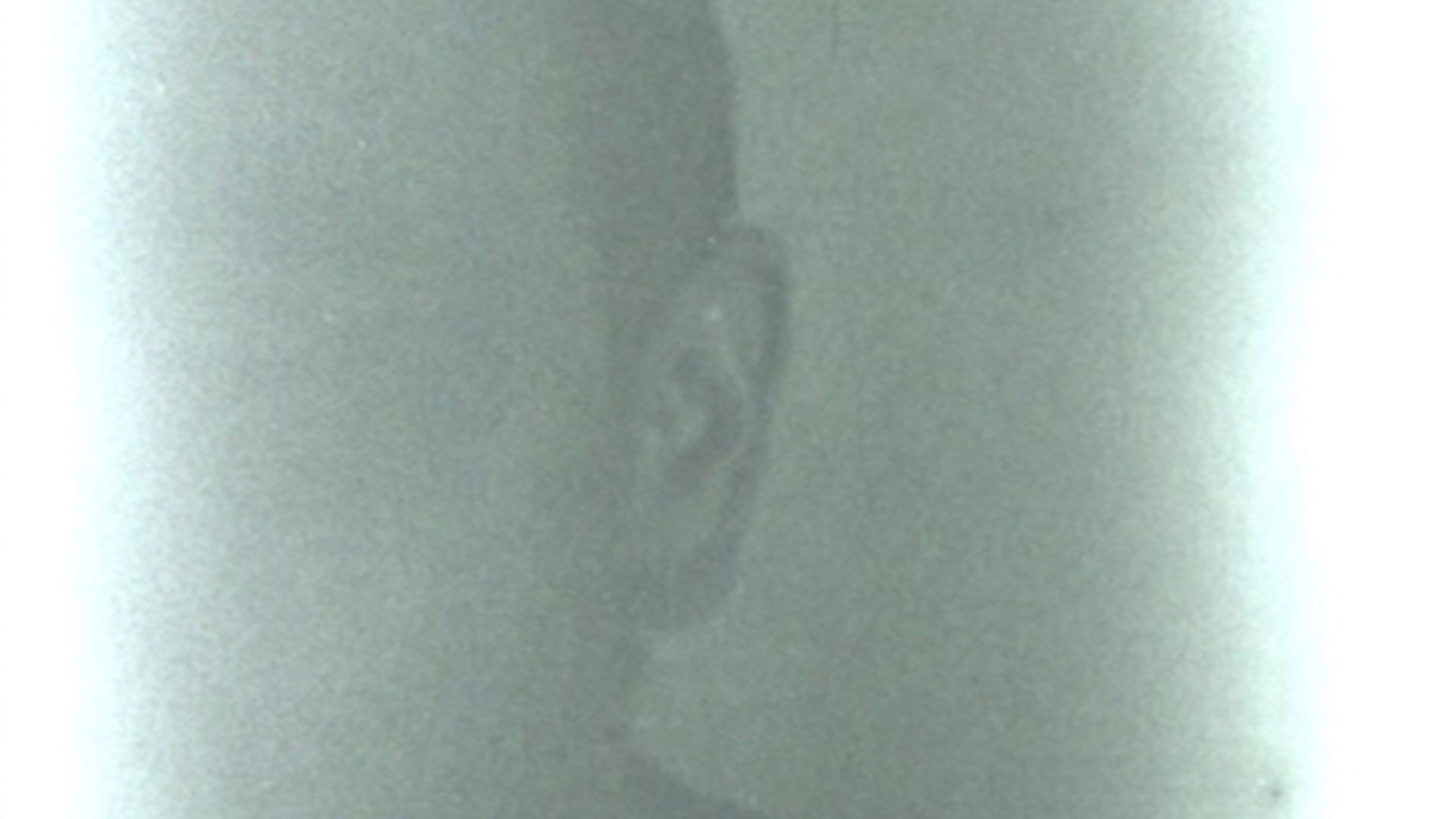 YONG BU FANG CHI | Deborah S. Phillips, Germany, 2019-2020, 16mm, 4 min.

My (former) neighbour, Samer is a trained translator & interpreter between Arabic and Chinese & would like to work as such. A visual exploration of the gap between what systems expect & reality & a human stuck in between. Negative film developed in black tea. (Deborah S. Phillips)