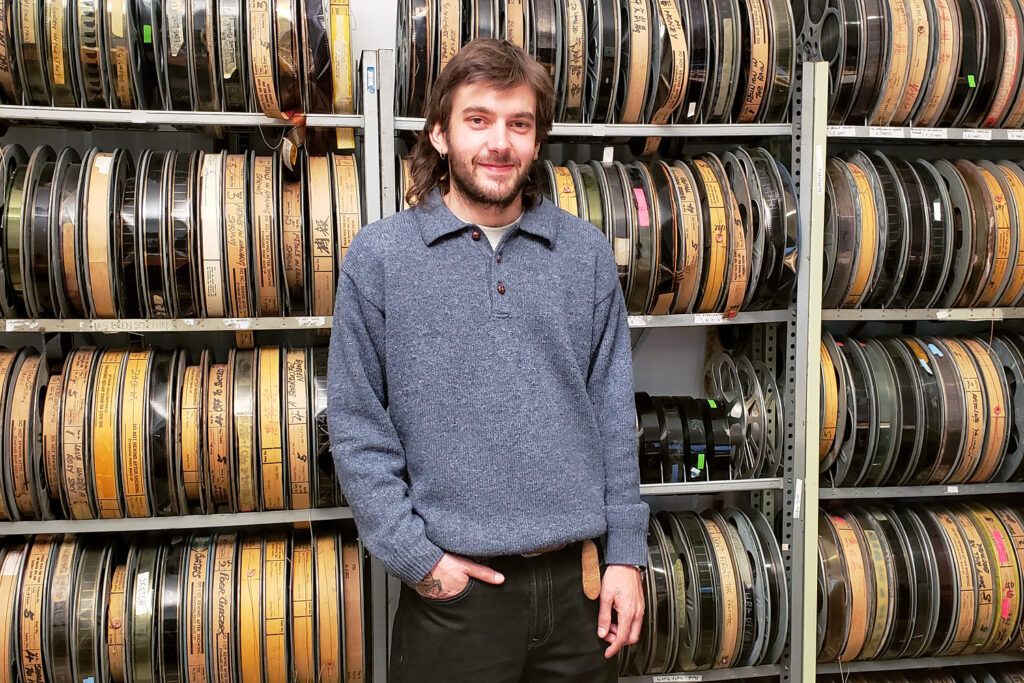 Torontontero by Álvaro Feldman was the project chosen in the last invitation from BAICC, the International Artistic Residency for Cinematographic Creation promoted by (S8) together with AC/E and LIFT. In September 2022, Álvaro travelled to Toronto to work at the LIFT (Liaison of Independent Filmmakers of Toronto) facilities to record the city and draw up a complete image from fragments and repeated loops, as well as to experiment with optical printing, discover the "dinosaurs that live in the dark" and lend shape to a film with no beginning or end, his Canadian rumba. We talked to him about all of this and about the captivating "tension" of expanded cinema. The film performance resulting from this residency can be seen in A Coruña next June at the 14th (S8).
– Could you give a short introduction to your project Torontontero?
Torontonton, torontotorontonton tero, torontotorontonton. [Singing.] Torontontero is a movie; well, I guess it's a lot of movies in one, or the same movie that appears differently each time, a performance, expanded cinema or something like that. For me, it's a Canadian rumba.
– Tell us briefly about the process of creation during your stay at the LIFT in Toronto.
In Toronto I was combining endless walks to shoot as much as I could, whilst working simultaneously with the copies of that filmed material. From the outset, I was mulling over the idea of constructing a film which would multiply into many other possible films, based on repetitions, so I shot in black and white and coloured it in the optical printer, then the projection is based on a loop that doesn't start or end, appearing differently each time. As for the sound, I also tried to translate those same mechanisms that govern the images and the performance that I'm preparing so as to put the two subjects into a dialogue. During my stay, all those concepts were getting arranged and disarranged in my head, just like in the movie.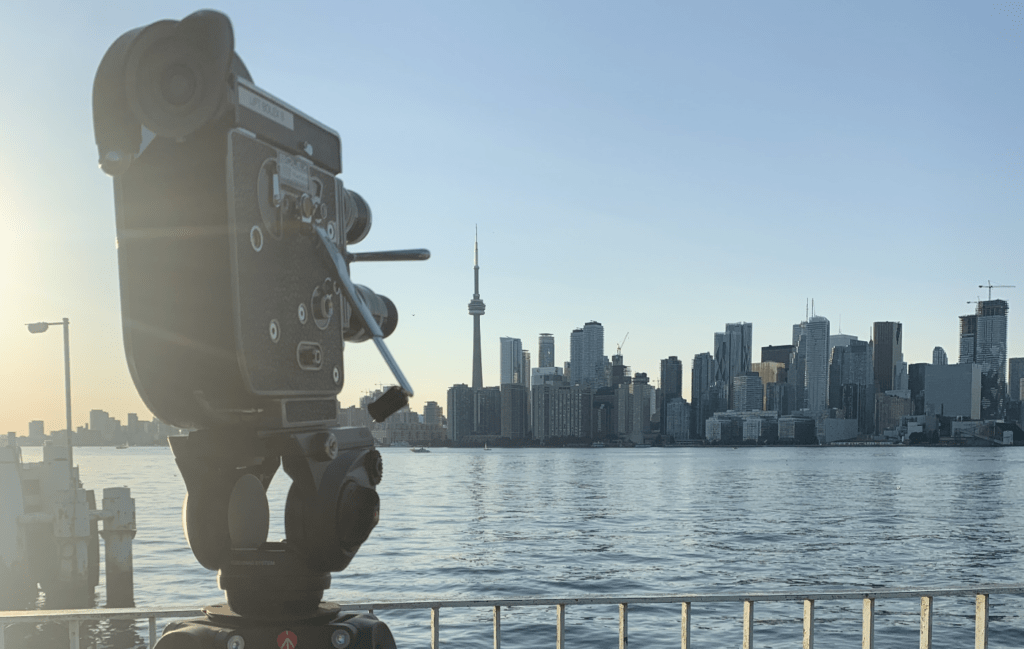 – How has your reception been among the Toronto experimental film community and what sensations did you get from being able to work in a space like the LIFT?
Fantastic! It's been amazing to meet so many inspiring people there with whom to share this obsessive desire to make movies with your own hands. I remember Karl, Robin and Noah, who helped me with everything I needed and we had a laugh between prints and developing film. I recall playing pool with Johnny in Niagara; thanks to him I had a bike and a guitar. Britt, who was a beacon, like the ones that appear in his movie. Martin and John in their oasis, CineCycle. Madi, who always has her arms open and gives very good hugs. Angelita, who gave me a home; Chris, Renata, Cayley and many others who I hold in great affection in my memory of those days.
– Your work stands out in technical exploration and knowledge of creative processes in the photochemical medium. How has your time at the Baltic Analog Lab influenced your work's artistic development? What were you able to explore there?
Experiencing LIFT was a great opportunity to learn about optical printing processes. It was a luxury to work with that intimidating yet wonderful machine, the Oxberry. Johnny said that printers are like dinosaurs that live in the dark. I was able to explore these techniques a great deal and investigate more about developing film, in addition to coming across thousands of ideas along the way on how to construct a performance and get the sound to have a dialogue with the image. I'm very interested in mechanisms, their possibilities and limitations, which sometimes get confused. In LIFT I found a space to explore them, and time to reflect on my processes.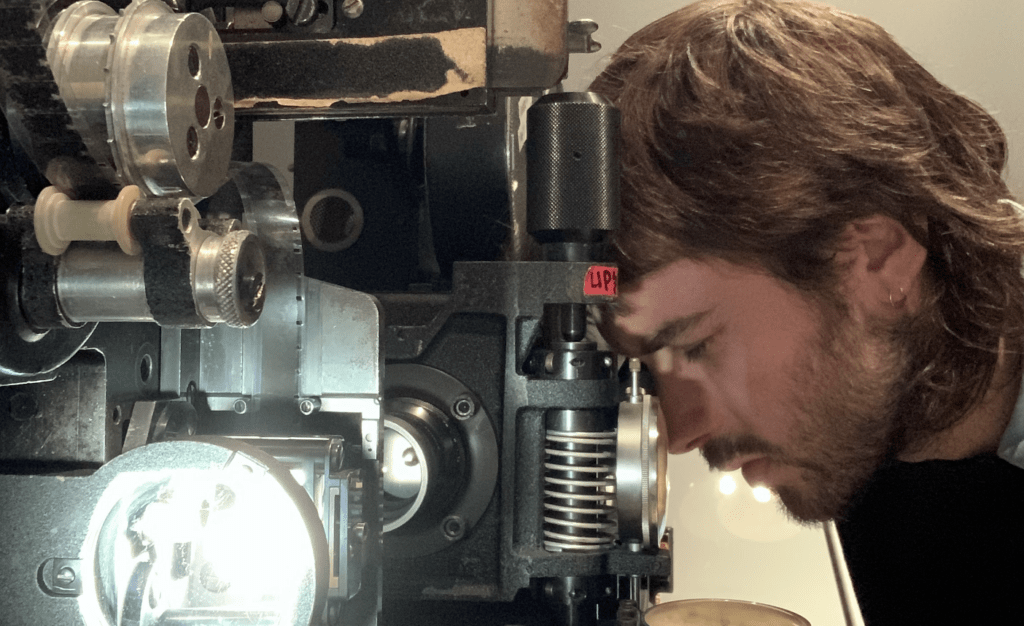 – In (S8) we pay special attention to cinematographic creation in real time in its different forms, such as film performance or expanded cinema. What's your opinion about this aspect of cinema? What is your experience in this area when tackling a project of these characteristics?
I think that this type of performance piece brings the cinematographic experience up to the present day. It makes the attendees accomplices of a unique experience. There's a tension that makes everything that might happen interesting, and it's the screening itself—not the content—that becomes important. It enables me to think about all the magical possibilities that sharing a specific time and space with other people can have via cinema.
So far, my experience has been truly expansive and I keep discovering new possibilities. In the end, it's difficult to find a way to roll them out. Torontontero is a little joke, but also an aspiration, sketching out an entire image using fragments, experiencing a form that is multiple yet unique at the same time.
– What stimuli do you find in the analogue format of moving images, and what do you think this choice contributes to your creative process?
Making movies in this way allows me to imagine. For me, the process of making them takes precedence, more than the result: being in contact with the material, with all the accidents that occur along the way, is magical and exciting. I think that seeing how the mechanisms of the camera or the projector move, developing the images and suddenly seeing things that one hadn't expected or that were constructed in another way in one's head, gives you the feeling that the film is alive, drifting its own way while we accompany each other.
– What stage of the process is the project currently at, and what will the next steps be?
Right now, I'm arranging the performance, the layout of the projectors and the duration of the loop, while I'm also testing the sound. I hope to have a set-up soon that balances out all of these tensions a little, so as to be able to begin rehearsing the projection procedures.