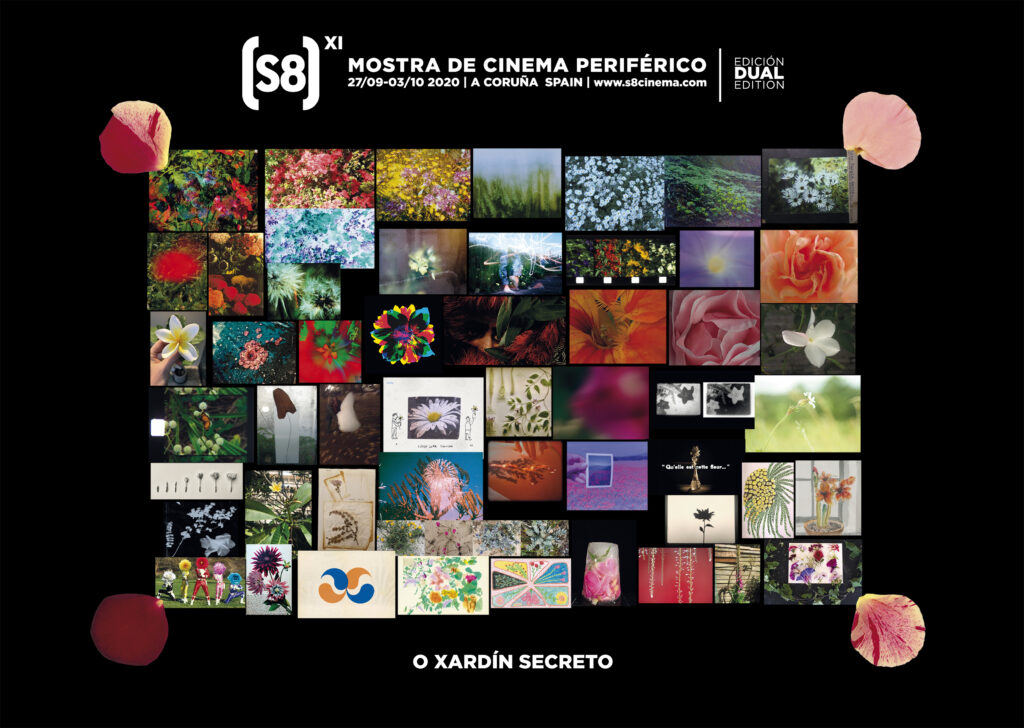 The festival brings back the "lost spring" through a number of sections that focus on the representation of flowers and the natural world in cinema.
The image of this dual edition, titled The Secret Garden, is a mosaic made with pieces created by well-recognized international artists, among which are Ken Jacobs, Saul Levine, Guy Sherwin, Jodie Mack, and María Cañas.
This edition of (S8) Mostra Internacional de Cinema Periférico is called The Secret Garden, a title that traces back to the spring we were forced to spend indoors and that the festival wishes to bring back by making plants and flowers bloom on the screens of viewers. The poster of the festival, which will be held from September 27 to October 3, is a tribute to that celebration of spring –a lavish collage of plants, petals, and flowers.
"Our wish is to bring back the spring we spent confined, a spring we could not experience, and during which it was impossible to celebrate our festival. That's what inspired the image of this dual edition –it had to be a dream garden, a collective garden made with flowers of different nature generously donated to us by collaborating filmmakers, programmers, members of our team, and friends of the festival" said the director of the festival, Ángel Rueda.
Among the "gardeners" that contributed to the creation of this image are international filmmakers and programmers like Ken Jacobs, Rei Hayama, Bruce McClure, Cecilia Barrionuevo, Guy Sherwin, Charlotte Pryce, Pablo Mazzolo, Saul Levine, Jodie Mack, Helga Fanderl…; and also national artists like María Cañas, Andrés Duque, Xisela Franco, Helena Girón, Samuel Delgado, and Rocío Mesa, among others. With this initiative, (S8) commits itself to promoting a kind of cinema that has the ability to grow "luxuriant vegetation" in the minds of those that approach it; a cinema that can stimulate our senses and make us go beyond the apparent. This year, (S8) brings to the audience its most international, informative, and collaborative edition.
FLOWER OF THE DAY #1 THE INNER GARDEN
ASPARAGUS | Suzan Pitt, 1979
FLOWER OF THE DAY #2 FOUND FLOWERS
PLANTAS TREPADORAS | Julieta Averbuj, 2013
CATHODE GARDEN | Janie Geiser, 2015
I BEGAN TO WISH… | Julie Murray, 2003
TRANSCRIPT | Erica Sheu, 2019.
NARCISSI | Shiloh Cinquemani, 2012
WASTELAND NO. 2: HARDY, HEARTY | Jodie Mack, 2019
LA FLOR DEL DÍA #4 A SOUTHERN GARDEN
CUARTETO | Claudio Caldini, 1978
POILEAN | Claudio Caldini, 2020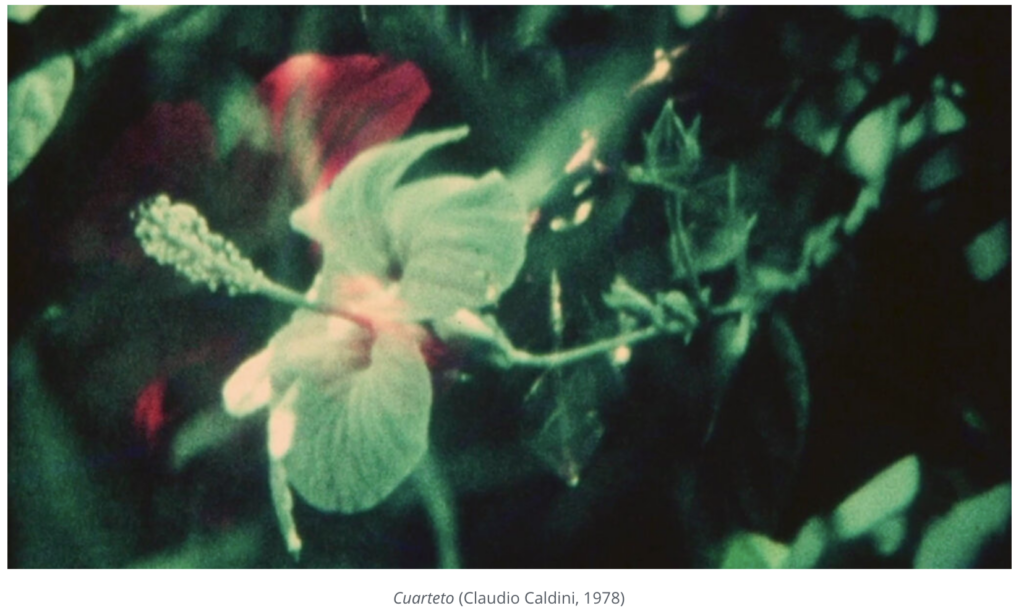 Another section that will be related to flowers and plants is Secret Gardens, an intergenerational collection of gardens that will be screened on site at the movie theater. Secret Gardens will offer a selection of 13 films in their original formats (35mm, 16mm, and super 8), all of them signed by prominent authors of avant-garde cinema, such as Rose Lowder, Margaret Tait, Stan Brakhage, Nathaniel Dorsky, Phil Solomon, and Bruce Baillie, among others. The program includes:
PLANTAS TREPADORAS | Julieta Averbuj, 2013, 35mm
TRANSCRIPT | Erica Sheu, 2019, 35mm
BAUMSCHATTEN – A l'ombre d'un arbre | Milena GIERKE, 1996, Super 8
BOUQUETS 26-27 | Rose Lowder, 2003, 16mm
GARDEN PIECES | Margaret Tait, 1998, 16mm
AMARYLLIS – a study | Jayne Parker, 2020, 16mm
THE GARDEN OF EARTHLY DELIGHTS | Stan Brakhage, 1981, 16mm
WASTELAND NO. 2: HARDY, HEARTY | Jodie Mack, 2019, 16mm
INTERLUDE | Nathaniel DORSKY, 2019, 16mm.
I BEGAN TO WISH… | Julie Murray, 2003, 16mm
THE SECRET GARDEN | Phil Solomon, 1988, 16mm
PUCHUNCAVÍ | Jeannette Muñoz, 2019, 16mm
ALL MY LIFE | Bruce Baillie, 1966, 16mm
During the festival, the audience will also be able to access the special online program The Secret Garden –a display of each one of the flowers donated to compose the poster image of this year's edition, that brought together the contributions of more than 40 filmmakers, programmers, staff members, and friends of the festival, among which are Claudio Caldini, Federico Lanchares, Azucena Losana, Jeannette Muñoz, Pablo Mazzolo, Madi Piller, Andrés Duque, Jacques Perconte, María Cañas, Samuel Delgado and Helena Girón, Xisela Franco, Alejandra Trelles, Cecilia Barrionuevo, Cinthia de Levie, Rocio Mesa, Lila y Betina Foster, Rei Hayama, Helga Fanderl, Charlotte Pryce, Janie Geiser, Bill Brand, Jodie Mack, Valentina Alvarado, Ken Jacobs, Saul Levine, Bruce McClure, Guy Sherwin, Steve Polta, Stephen Broomer, Esperanza Collado, Gloria Vilches, Francisco Algarín, Pere Ginard, Blanca Viñas, Albert Alcoz, Lucía Vilela, Lucía Rolle, Elena Duque, Ana Domínguez, Ángel Rueda, Ximena Losada, Andrea Villa, Nela Fraga, María Meseguer, David Carballal, Tamara Blanco, and Marcos Flórez.
In this dual edition, (S8) will combine on-site activities with a selection of contents exclusively designed to be enjoyed online, with special emphasis on developing accessible and informative formats. In the same spirit, contributing to the film literacy of the audience and boosting the exposure of promising creators will be the two main pillars of (S8)'s program.